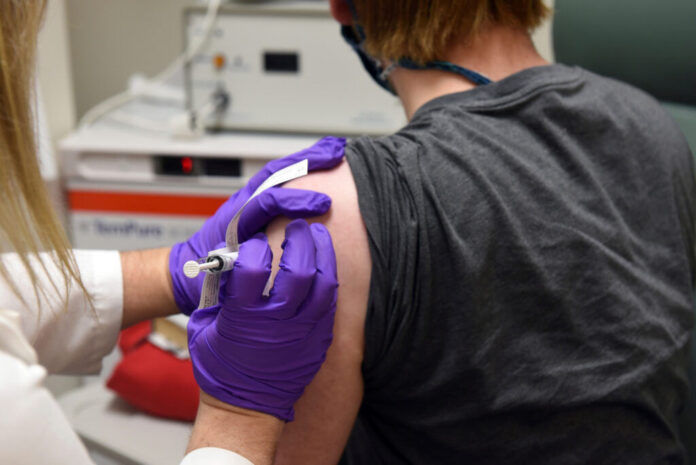 PROVIDENCE – Members of Rhode Island's largest state employee union on Thursday overwhelmingly approved a new four-year contract that includes a $3,000 bonus for getting vaccinated against COVID-19.
Rhode Island Council 94 of the American Federation of State, County and Municipal Employees approved the agreement by a vote of 1,963 to 97. The union represents more than 3,800 state employees.
The state ratified two agreements with Council 94: one from July 1, 2020 through June 30, 2021, and the second from July 1, 2021, through June 30, 2024.
Provisions within the agreement call for a 2.5% cost of living adjustment raise that is retroactive to June 21, 2020, and for each of the next three years; two payments of $1,500 to retain employees, with the condition that they are fully vaccinated; an increase in accrued sick days from 10 to 20 that can be used each year for family sick leave; and expanded bereavement leave for family members beyond those currently covered.
Michael Downey, president of Council 94, said the contract is fair to the union state workers that his council represents.
"The bonus was negotiated through the McKee administration. It provides for a safe work environment, and for the public to come into the environment in which we work," he said.
Downey acknowledged the vaccine bonus played a role in the vote, but the raises for union workers were also an incentive for a favorable vote.
"Some of our members who work in direct care settings, such as the Rhode Island Veterans Home, Eleanor Slater Hospital, and RICLAS group homes, and other state agencies contracted and recovered from COVID multiple times," said Council 94 Executive Director Alexis Santoro in a statement. "The new contract provides modest raises and incentive payments to help retain state employees. State government has faced challenges in recruiting and retaining employees during these challenging times. Our members are taxpayers too and facing the impact of increased inflation that is challenging all Rhode Islanders."
James E. Thorsen, Rhode Island's director of administration, said the state "had a three-pronged focus throughout the negotiations: inflation, retention and vaccination. The contract addresses each of these concerns, with the state offering competitive pay amid economic uncertainty and taking a further step to increase our vaccination rate.
"The contract strikes the appropriate balance between expressing our commitment to our employees and providing value to Rhode Islanders who rely on their services," he said.
Gov. Daniel J. McKee has not spoken publicly on the contract or responded to criticism from some lawmakers and business leaders that it is unfair to offer vaccine bonuses to some workers in the state and not others.
In a statement, McKee late Thursday said that he is pleased with the contract approval.
"It was something that needed to be done, and it was done in a good way," said McKee, noting that state employees were working under an expired contract. "It was fair to the workers and fair to the taxpayers."
McKee, a Democrat, said he would have negotiated without including the vaccine bonuses, but "it is what the taxpayers can afford."
A spokesperson for McKee could not say how the bonuses would be paid for but The Boston Globe has reported that McKee has said it will be paid for with federal dollars.
House Republicans issued a statement estimating the cost of the vaccine at more than $11 million.
"People should be paid for their work, not their private medical choices," the House Minority office said in a statement. "The hundreds of thousands of vaccinated Rhode Islanders should not be forced to pay bonuses to state employees who have also chosen to be vaccinated. The union's role is to negotiate the best deal for their members – and they clearly have. On the other hand, it is up to the governor to advance the best interest of all taxpayers – and he has failed."
On Nov. 18, McKee's administration and AFSCME Council 94, announced their tentative agreement on the contract, which includes an initial $1,500 payment to vaccinated workers following the vote and an additional $1,500 payment in July.
The union's members have not been mandated to get vaccinated against COVID-19, while other workers in the state, including in the health care sector, have been required to do so.
Rhode Island mandated health care workers to be fully vaccinated against COVID-19 by Oct. 1 but didn't issue any mandate on state workers.
Dave Chenevert, executive director of the Rhode Island Manufacturers Association, said he does not believe the state should be paying $3,000 to get workers vaccinated with taxpayer dollars.
"I think it undermines the efforts that the private sector is trying to do to get their workers vaccinated," he said. "Do for one, we should do for all. Do we extend this to private citizens as well?"
(ADDS paragraphs 16-17 with comment from the House Minority office.)
Cassius Shuman is a PBN staff writer. Contact him at Shuman@PBN.com. You may also follow him on Twitter @CassiusShuman.

Want to share this story? Click Here to purchase a link that allows anyone to read it on any device whether or not they are a subscriber.