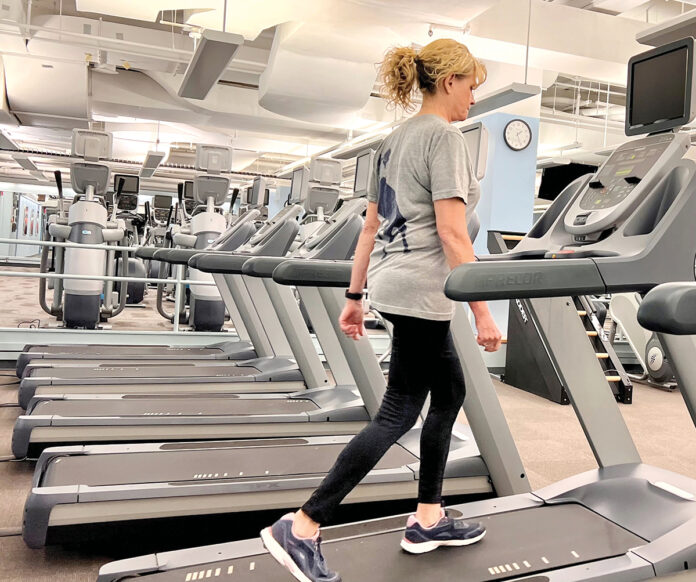 PBN Healthiest Employers Awards 2022
5,000+ EMPLOYEES
1. CVS Health Corp.
CEO (or equivalent): Karen S. Lynch, CEO and president
Number of employees: 325,000
---
As a diversified health services company that owns retail pharmacies, a pharmacy benefits management company, a health insurance company and more, Woonsocket-based CVS Health Corp. feels a special responsibility to maintain a healthy workplace for its employees.
"As a purpose-driven company, we know that bringing our heart to every moment of your health begins with prioritizing health and well-being for our 300,000 employees," said CVS Chief People Officer Laurie Havanec. "We are building an employee culture where taking care of mental and physical [health] is part of the way we work every day."
In addition to traditional health care benefits, CVS is emphasizing the mental and physical well-being of its employees, which is particularly important considering the role CVS is playing in the national efforts to curb the COVID-19 pandemic.
Candace Jodice, vice president of benefits strategy, said CVS administered 59 million COVID-19 vaccines in 2021.
CVS acquired Aetna Inc. at the end of 2018, so it provides its own insurance coverage for employees.
Jodice said some CVS locations have their own fitness centers. There's also a fitness staff that can provide advice online for employees. Aetna has a program called Attain by Aetna, which offers activity goals monitored by an Apple watch or Fitbit. More than 30,000 CVS Health and MinuteClinic employees are active users.
CVS also provides discounts toward gym memberships for employees. Some CVS corporate facilities even have a "serenity space" for meditation, prayer, yoga and relaxation.
The company uses digital resources to help employees navigate stressful times. Recently, Jodice said, CVS has partnered with Thrive Global, a series of behavioral change apps that provide small steps to relieve stress and help prevent burnout.
"We're trying to show the impact that people can have when they take care of themselves first," Jodice said.

Employees also have access to a variety of additional counseling services, from face-to-face meetings to video or text sessions.
CVS is among many large companies, including Starbucks Corp., Tesla Inc. and Google LLC, that will reimburse travel and lodging expenses for employees covered by health care if they must travel from states that have instituted more-restrictive laws on abortion.
Jodice said the ongoing COVID-19 pandemic has changed the way many companies operate across America. For CVS, many of its corporate employees were able to work from home. Medical and pharmaceutical workers, however, did not have that option, and Jodice said protecting them through vaccinations and protective equipment has been a priority.
Thousands of CVS employees were working from home at the height of the pandemic. Starting in March 2022, they returned to their offices but not full time.
"We've shifted to allow colleagues to balance work and family by using a hybrid system," Jodice said. "People have to make sense of how they can use their days."
Jodice does not see CVS, or many large American corporations, going back to having all employees in an office five days a week.
"We found out we can be just as productive, if not more productive, with people working from home. I don't see our company going back to the way it was before," she said. "But we need to figure out the best way to do it. You can't just say, OK, everyone in the office Tuesday, Wednesday and Thursday."
Certainly, she said, there's a virtue to in-person brainstorming, collaboration and community. On the other hand, it's not necessary all the time, particularly when employees have grown accustomed to using social collaboration tools such as Zoom.
"If there's a silver lining to the pandemic, it's that we learned how to pivot to a different way of working," she said. "There was no playbook when COVID hit. Now we have a bit of a playbook to use in the future."
As people's needs evolve, Jodice said, CVS tries to evolve with them.
The company offers a Family Building Assistance Program, for example, which is designed to help employees who want to grow their families by helping to offset expenses for adoption; use of a gestational carrier or surrogate; purchase of eggs, embryos or sperm; and use of a doula.
A Healthy Thought: 'We're trying to show the impact that people can have when they take care of themselves first.'
CANDACE JODICE, CVS Health Corp. vice president of benefits strategy
(UPDATES: CVS Health Corp. employee Diana Balavender's name was misspelled in the photo caption. A previous version of this story said that only CVS employees covered by Aetna Inc. have access to a variety of additional counseling services, from face-to-face meetings to video or text sessions, but all CVS employees have access to those services.)

Want to share this story? Click Here to purchase a link that allows anyone to read it on any device whether or not they are a subscriber.