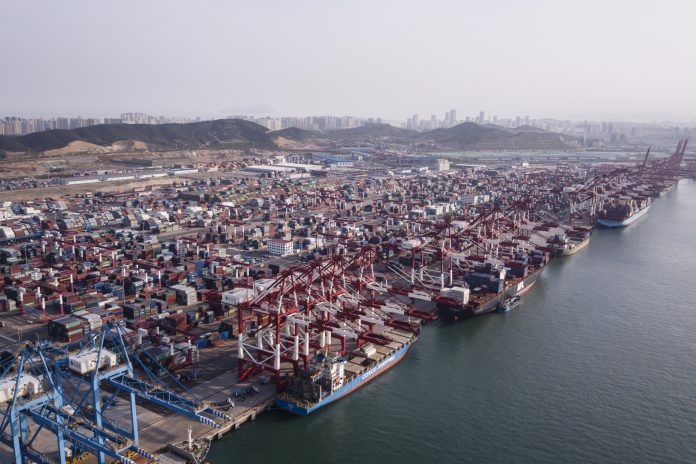 NEW YORK – The United States merchandise-trade deficit widened to a record in September while orders for business equipment declined for a second month, adding to signs that an escalating tariff war is starting to constrain economic growth.
The gap in goods trade rose to $76 billion from $75.5 billion as gains in imports outpaced exports, Commerce Department figures showed Thursday, with both categories potentially reflecting shipments rushed to beat tariffs between the U.S. and China. A separate report from the department showed orders at U.S. factories for non-defense capital goods, excluding aircraft, unexpectedly fell last month.
While analysts said the slowdown in business equipment may be natural following several months of strong figures, the figures suggest that investment has less momentum heading into the fourth quarter, after getting a boost earlier in 2018 from tax cuts. Meanwhile, the trade data reinforced forecasts that net exports were probably a significant drag on third-quarter economic growth, ahead of Friday's report on gross domestic product.
"You have imports pretty strong the last month or two, and particularly last month, and so some of that may actually be front-loading of imports ahead of expectations that tariffs will pick up," said Michael Feroli, chief U.S. economist at JPMorgan Chase & Co. in New York. The report on factory orders "does set up a path for a little bit softer capex growth" in the fourth quarter, he said.
The economic reports followed a string of company comments that sent stocks tumbling earlier this week.
Caterpillar Inc., an economic bellwether, said manufacturing costs were higher due to rising material and freight costs, while 3M Co. sank the most in about six months as adverse exchange-rate moves and high material prices compounded slumping sales in its electronics, health-care and consumer products businesses. The S&P 500 regained some ground Thursday, rising 1.7 percent as of 12:49 p.m. in New York.
The trade figures showed imports rose $3.1 billion from the prior month, or 1.5 percent, and exports climbed $2.5 billion, or 1.8 percent. While some of the import gains may be related to front-running tariffs, solid consumer and business confidence are underpinning demand for foreign-made goods.
The U.S. and China last month imposed their latest round of tariffs on each other, which followed tranches implemented in July and August.
The latest report adds to signs that U.S. companies rushed to get Chinese products in before the White House on Sept. 24 imposed the 10 percent tariff on $200 billion in Chinese goods, which caused Beijing to slap duties on $60 billion of U.S. products. The tit-for-tat has resulted in tariffs on some $360 billion in annual two-way trade.
Shipping incentive
With the U.S. tariff rate set to rise to 25 percent in January, "shippers still have an incentive to rush goods in," and executives at U.S. ports say that's what's happening, according to Stephen Stanley, chief economist at Amherst Pierpont Securities LLC.
"Exports face the headwinds of an appreciating dollar and retaliatory tariffs, while imports are surging now with the likelihood of a steep falloff in early 2019," Stanley said in a note.
The business-equipment report showed overall durable-goods orders unexpectedly rose on a surge in bookings for military aircraft and parts, which Bloomberg Economics says is a temporary result of the federal budget passed earlier this year. But orders fell for electrical equipment, appliances and components, while orders for computers and electronic products were unchanged. Categories with gains included motor vehicles and parts, as well as machinery.
What economists say
Tim Mahedy and  Carl Riccadonna of Bloomberg Economics said that underlying demand for durable goods appears to be moderating as the Fed continues to remove policy accommodation, and pass-through to consumers from cost-push inflation related to tariffs has slowed demand for some manufactured goods. They also noted that demand should continue to soften as the Fed hikes rates further and trade tensions continue to simmer.
Other data out Thursday weren't so weak: Pending home sales rose in September for the first time in three months, according to the National Association of Realtors. Filings for unemployment benefits rose last week, in line with economists' estimates, as claims picked up in hurricane-hit Florida and Georgia. They're still near the lowest level since 1969.
"We still have a lot of fiscal stimulus, and that's going to mask a lot of the trade tensions' impact on the broader economy," potentially putting it on a "sugar high" through at least mid-2019, said Ryan Sweet, head of monetary policy research at Moody's Analytics Inc. in West Chester, Pennsylvania. "It's going to take a lot to derail the economy."
Jenny Leonard, Sarah Foster and Katia Dmitrieva are reporters for Bloomberg News.