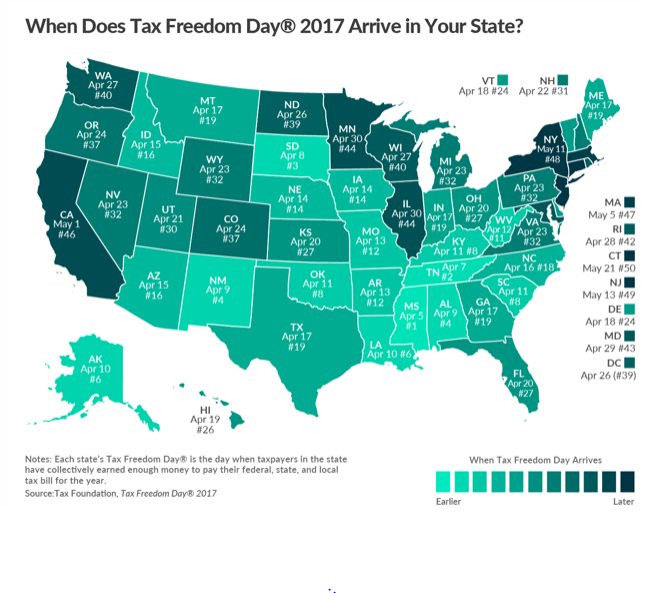 PROVIDENCE – This year, tax freedom comes to Rhode Island on April 28.
The Tax Foundation, an independent tax policy nonprofit, uses income and tax burden data to calculate when each state – and the entire nation – has made enough money to pay off its total tax burden.
The Ocean State's tax burden day falls five days later than the national Tax Freedom Day of April 23. On April 28, Rhode Island will be the 42nd state to reach its Tax Freedom Day.
According to the Tax Foundation, Americans will pay $3.5 trillion in federal taxes and $1.6 trillion in state and local taxes, for a total bill of more than $5.1 trillion, or 31 percent of the nation's income.
It said Americans will collectively spend more on taxes this year than they will on food, clothing and housing combined.
This year, Americans will work the longest – 46 days – to pay federal, state and local individual income taxes. Payroll taxes will take 26 days to pay, followed by sales and excise taxes (15 days), corporate income taxes (10 days), and property taxes (10 days). The remaining six days are spent paying estate and inheritance taxes, customs duties and other taxes.
Adding in annual federal borrowing, representing future taxes owed, the national Tax Freedom Day would happen 14 days later, on May 7.
Tax Freedom Day came earliest to Mississippi – April 5.  That state had the lowest annual tax burden this year. Connecticut has the latest Tax Freedom Day, May 21.
States with higher incomes and higher taxes celebrate Tax Freedom Day later, according to the foundation. Massachusetts will have its Tax Freedom Day on May 5 (47th in the nation), while Maine's was April 17 (19th in nation); Vermont, April 18 (24th); and New Hampshire, April 22 (31st).