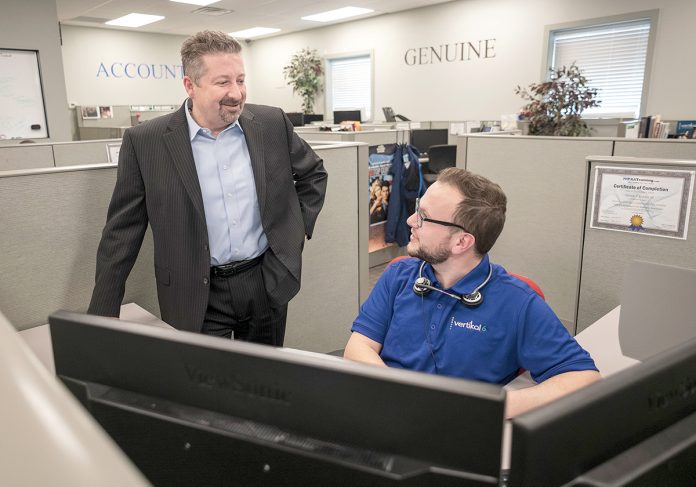 Rhode Island has been projected to add nearly 2,300 jobs in technology-related occupations during the decade from 2016 to 2026, mostly in the computer and mathematical job sector, R.I. Department of Labor and Training statistics show.
DLT statistics also show Rhode Island's job market has tightened in recent years, making good job candidates harder to find. The state unemployment rate stayed at 3.9 percent or 4 percent during the seven-month period from July through January, dropping steadily since staying between 11 percent and 11.3 percent for nearly three years from April 2009 to February 2012.
Such trends seem to be feeding the need for more apprenticeship programs, especially in growing business sectors such as technology, said Beth Ashman, apprenticeship systems manager for Apprenticeship Rhode Island. The agency formed in 2016 to help Rhode Island employers design apprenticeships that help them attract, train and retain good employees.
The increased emphasis on apprenticeships represents a shift in the way companies handle employees.
"Instead of just complaining about a lack of talent," Ashman said, "it's employers taking on workforce development within their companies."
Apprenticeship Rhode Island's biggest customers have been in health care and the construction trades, but more tech-related businesses are joining the apprenticeship trend, Ashman said.
'It's about finding the right person with the ability to fit into our [company] culture.'
RICK NORBERG, Vertikal 6 founder and CEO
One customer was Vertikal 6 Inc., a Warwick-based information technology consulting and services firm that has grown from founder and CEO Rick Norberg and two others in 2002 to 43 employees today, including eight apprentices.
Norberg said his company's one-year, paid, full-time apprenticeships have become the key to recruiting and developing employees.
"It's not just about training people," he said. "It's about finding the right person with the ability to fit into our [company] culture."
Information technology firms typically didn't think about apprentices, but the industry has grown due to evolving computer technologies and growing demand for cybersecurity systems and services.
"I think it's still pretty new for IT employers to think that way, but I think it's growing," Ashman said about apprenticeships. "They're totally responding to the labor market."
Most of Rhode Island's technology jobs are clustered in the computer and math-related occupations. Those jobs numbered 14,851 in 2016 and are projected to grow to 16,671 in 2026, an increase of 1,820 jobs, or 12.3 percent. That follows an even larger growth spurt during the previous decade from 2006 to 2016, state statistics show.
One of Vertikal 6's apprentices was Jenna Barboza, who has since been promoted to service operations manager. After earning an associate degree in network engineering at the New England Institute of Technology, she joined the company as an apprentice. Without that experience, Barboza said, she probably wouldn't have been ready to be successful there.
"I probably would have struggled," she added.
Norberg said most recruits can be trained in the technical aspects of IT jobs, but the company uses some unconventional techniques to go further to learn about workers' mentalities.
One such exercise is called the spaghetti tower. It involves getting people together in a group and giving them a problem to solve, then observing each one's behavior. The group is given 25 pieces of uncooked spaghetti, tape, string and a marshmallow, and is told to use it all to build a tower.
It helps determine which people will be valuable in solving problems and coordinating to get a job done – an ability that's especially useful in the IT field for addressing issues with customers as they crop up.
"We see who takes the initiative and who sits back," Barboza said about the spaghetti exercise. "We see how they work together."
Once good tech employees are recognized, it can be lucrative for them. In 2017, for example, Rhode Island's 2,252 software developers – a job that typically requires a bachelor's degree – were paid a median wage of $43.87 per hour. An entry-level software developer could expect $34.11 an hour, while an experienced one could make $54.63 an hour.
Even tech jobs that usually require little or no college have above-average pay. Computer-use support specialists – numbering 1,402 statewide – and computer-network support specialists – numbering 1,206 statewide – had median hourly wages of $26.66 and $24.39, respectively, as of 2017, according to state labor statistics.
Like Vertikal 6, Apprenticeship R.I. helps employers in IT and other fields customize their apprenticeship programs. Ashman said that can involve discussing the competencies they need in employees, the instruction they'll need to provide to apprentices and how to do it, the length and pay of apprenticeships, and setting up clear expectations once apprentices graduate.
The agency is part of the American Apprenticeship Initiative by the U.S. Department of Labor, which provides grants to help fund such agencies.
"This is something on a national level," Ashman said.
Scott Blake is a PBN staff writer. Email him at Blake@PBN.com.