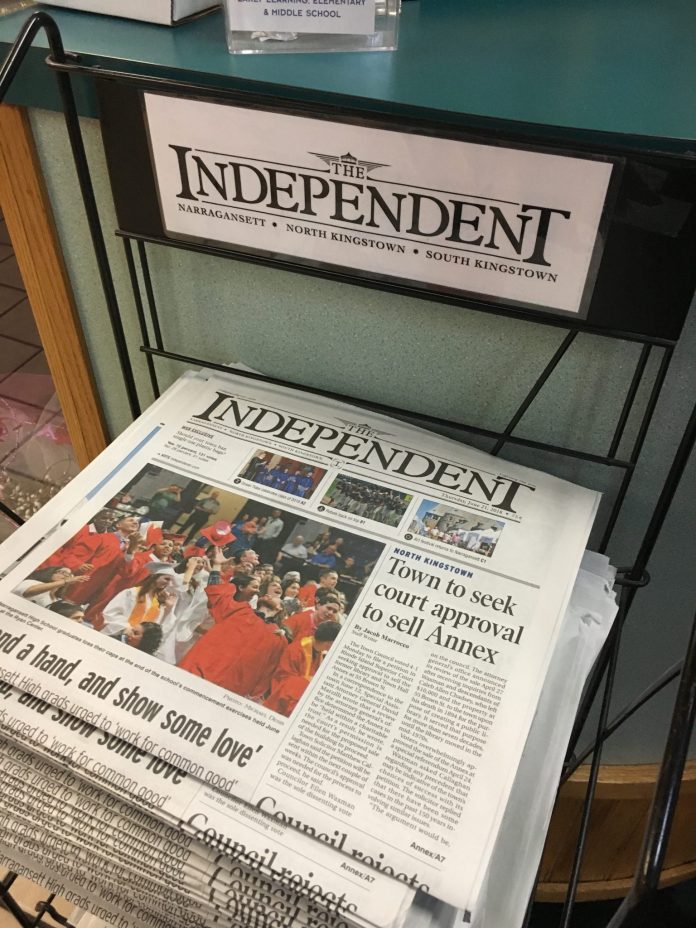 SOUTH KINGSTOWN — The Independent, a weekly newspaper covering three towns in Washington County, and its accompanying magazine South County Life, are being sold to Rhode Island Suburban Newspapers Operations Inc. and the group Southern Rhode Island Newspapers – The Independent's direct competitor – by GateHouse Media Inc.
Southern Rhode Island Newspapers, based in South Kingstown, publishes The Narragansett Times – a twice-weekly paper – the Standard-Times, the Chariho Times, the East Greenwich Pendulum, the Coventry Courier and the Kent County Daily Times. RISN also owns the Pawtucket Times and the Woonsocket Call.
The Independent, which covers the towns of Narragansett, North Kingstown and South Kingstown, is currently produced out of Newport and has a satellite office in South Kingstown. The paper and magazine, along with the Newport Daily News, Newport Mercury and Newport Life Magazine, were previously owned by the E. A. Sherman Publishing Co. before those publications were acquired by GateHouse Media for $1.3 million in November 2017.
According to the Independent's website, the sale is expected to close July 1 and the paper will move into a new office in the Wakefield village of South Kingstown.
Terms on the sale were not disclosed and staff for both publications are "being retained," the site reports. The Independent's editorial staff includes managing editor Daniel Kittredge, three full-time news reporters, a full-time staff photographer, a sports editor and a part-time paginator.
An email left for RISN publisher Jody Boucher seeking comment on Thursday has yet to be returned to PBN. However, in a statement on the paper's website, Boucher says RISN thinks adding the Independent is a "great fit" and believes it will be a "great opportunity" for RISN to "preserve and maintain" the paper's tradition of producing award-winning journalism.
The Independent was founded by Frederick J. Wilson III along with a group of investors in 1997 originally as the South County Independent, according to the paper's website. A year later, the paper expanded to publishing a magazine, South County Life.
In 1999, the company launched the North East Independent, which focused on North Kingstown and East Greenwich. The two papers received several awards from both the New England Newspaper and Rhode Island press associations over the years for its coverage.
In October 2015, the two papers combined into The Independent, focusing on its current coverage area and dropped East Greenwich from its regular weekly coverage.
Kittredge said in a statement on the website the Independent and South County Life Magazine will "remain committed" to provide readers in Washington County "with comprehensive, engaging and difference-making coverage."
James Bessette is a PBN staff writer. Email him at Research@PBN.com.