R.I. Housing and Mortgage Finance Corp. is celebrating its 45th anniversary this year in a position of financial strength, says Executive Director Barbara Fields.
It has created programs to assist first-time homeowners, expanded its servicing of mortgages to include those generated by MaineHousing and emerged from the Great Recession with a surplus of financial assets.
But it is working against a backdrop of unaffordability. Half of all renters and 30 percent of homeowners in Rhode Island are housing-cost burdened, paying more than 30 percent of their take-home income on rent and utilities.
Fields has been executive director of the quasi-public agency since January 2015. She previously was the New England regional administrator for the U.S. Department of Housing and Urban Development and the director of the Local Initiatives Support Corp. in Providence.
What's the best way for Rhode Island to increase access to affordable housing?
"Build, build, build," she said.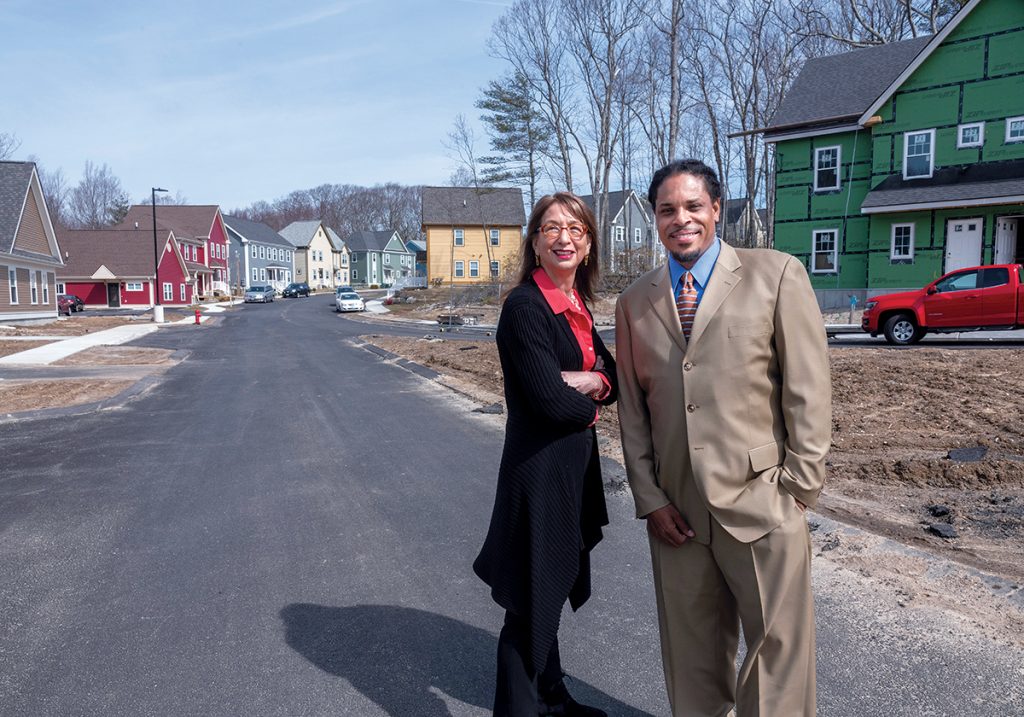 How has the mission of R.I. Housing changed over the past 45 years? R.I. Housing was established by the General Assembly in 1973 as a public corporation of the state. We have an independent existence from the state, although they exercise a central control over our board. Our primary purpose was to encourage investment of private funds for the development of housing for low- and moderate-income persons, and to function as a source of capital for affordable-housing development. We were basically set up to be the state's housing bank at a time when many other states were doing this. Today, there are 53 housing finance agencies [nationally].
Within Rhode Island, what is your share of home loan origination? Last year, we did 13 percent of the mortgages in the state. Origination … is only 15 percent of our business. Eighty-five percent of our business comes from working with 40 brokers and lenders and we consider them, obviously, critical and important partners. The No. 1 is [Coastway Community Bank]. They help bring us business. Housing is economic development. We help support local businesses. … Also, we were set up to bring private money in to help people get into home ownership. We go to Wall Street and float taxable and tax-exempt bonds, both for single-family and multifamily.
Since the [Great Recession], what has changed in our business is we also sell in the secondary market. We get a warehouse line of credit. We work with three or four banks. We purchase the mortgages and when we get enough, we bundle them and we sell them in the secondary market as securitized mortgages.
What's the benefit of doing that? The interest rates have been extremely low. There are key Rhode Island officials … who got their first mortgages at RIHousing. [Former Auditor General] Ernie Almonte in 1982 or 1983 bought [his] first house. The rates were 15-16 percent and we could get you 12 [percent]. We forget. In a video on our website he stands in front of his first house. That speaks to what our major focus and mission is. People who are early in their career, buying a home and setting roots in the community. Last year was a banner year. We did almost 1,800 mortgages. The average age of someone who got a mortgage through RIHousing last year was 37.
Is there any focus this year for the organization? Rental apartments for working families, working individuals and a lot more seniors. We have a growing senior population. … [Recently], we got the first-ever Capital Magnet Fund. We got one of the largest in the country. It's from the U.S. Department of Treasury. It's $4.7 million and it will help us on a key focus. … We run a lot of federal programs on behalf of the state. One of them is the federal low-income housing tax credit. … There are two sets of credits. One is a deeper subsidy, called the 9 percent. It's highly competitive. We're doing as much as we possibly can with what we get. The other, which is a shallower subsidy [of 4 percent] that has to be used with our first mortgage, that is limited by the state's bond capacity. We are not tapped out, and we would love to do more of those deals. And produce more rental housing and preserve housing that exists. [With] that Capital Magnet, we'll be able to fill that hole, between the 4 percent and the 9 percent.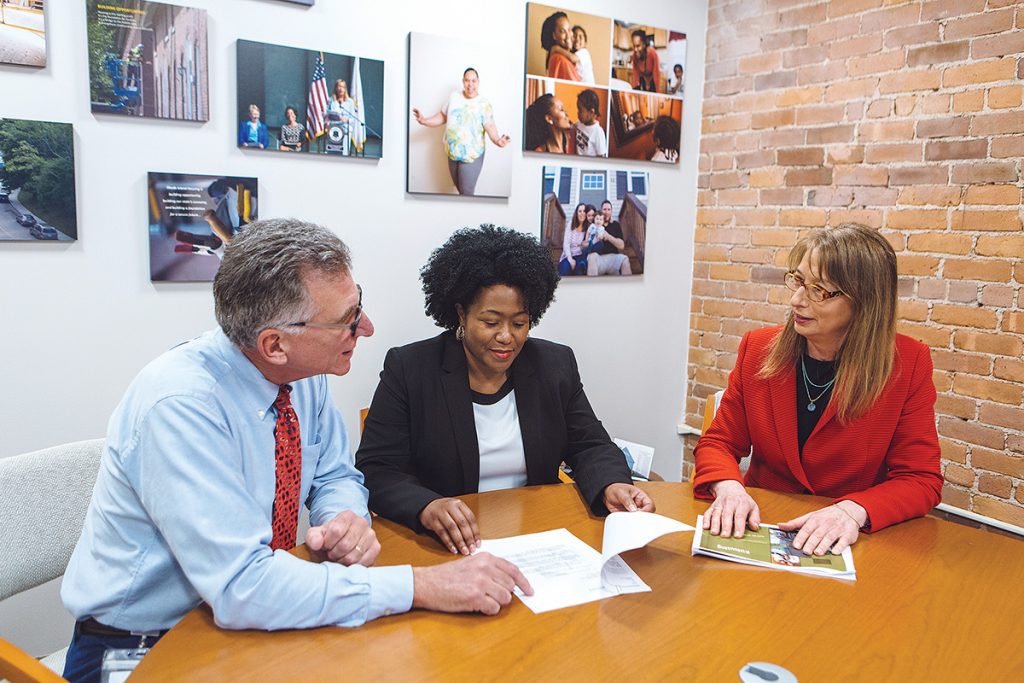 What is the profile of your mortgage borrower? The average household income for the homeowners we served last year was … about $66,000 to $67,000. That's teachers who may be in for a few years, certified accountants, nursing assistants, construction workers. This is the heart and soul of what makes up our middle class. And the average sale price was just under $200,000. And I'm proud of the fact that 27 percent of our mortgages are reaching the minority community. We're seeing rising prices, so some of that rise is good, it means our economy is getting better. … One of the challenges is … just having more housing built in the state.
You've touched on the lack of inventory in single-family homes. What is the solution? How do we get more inventory? Build, build, build.
How? There are different pieces. Some of them we're beginning to explore: if there are zoning challenges and communities that aren't interested. Personally, I've been going around the state for the past year. I've been in Barrington, Middletown, Cumberland, talking to mayors, city councilors and town councils. I would have to say, by and large, they are welcoming. Everyone at this point has a story to tell. It's either my son won't leave the house, [or] soon it will be my mother won't leave the house. Or my sister-in-law's godchild and her fiancé are looking for a house, and they can't find it. Seniors are staying longer in their homes. They're living longer and are in better health. That's not freeing [housing] up.
If there is an understanding of what the issue is, why aren't more towns creating zoning to allow more density? I think South Kingstown just did some [rezoning] along Route 1. As I say to the communities, think about your community. I've been out with two mayors now, I'm about to go with a third, [and I say] drive me around your city, your town, and tell me, where do you want development? Because it is likely to come, and wouldn't you want to proactively direct it to those places? In South Kingstown, they started talking about some properties that they knew.
There is always going to be some NIMBY-ism [or "not in my backyard"], but we have not had that raised as a major issue. We're now funding our second project in Barrington. … We have done one now in Shannock Village, in Charlestown. These are apartments for families, most earning between $30,000 and $50,000 a year. Anyone can apply. But mostly you get people from your community. When we run the numbers in these communities, usually you find 20 percent of current residents would be eligible. … The most important thing to understand is there isn't one type of housing that we advocate for. We have high-rise buildings. We have single-family homes being built. We have duplexes. We have ground-floor retail and townhouses.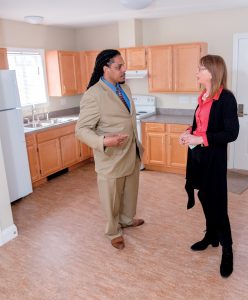 So, people may have a visual that pops into their head when they think of affordable housing. They don't want it developed in their community because they think it's going to be ugly? We're smarter about how to build [today]. We think about housing as part of the community, and community is the economic life of the state. I'm a community-development person coming into housing, so I am always thinking about the connection. We always look when we are financing multifamily rental, where are the parks, where's the bus line, where do you shop for groceries? What is it that makes a community?
People still assume millennials are living in the basement with their parents. But they're out there buying now, they are the starter-home market. You have a variety of mortgage programs, including down-payment assistance. But they're running into an inventory problem. Are the state's demographics part of the problem? It's a variety of factors. You have millennials who are now ready to buy. You have a tremendous change in the economy. We went from the second-worst unemployment rate in the country to one of the lowest. We did a 10-year study. Even if the population grows slowly, we projected it would grow at 5 percent [over 10 years]. Households will grow at 12-13 percent. People are waiting longer to marry. You have a lot of singles, or two people in a house without a child until later. So, people need more houses. People are divorcing. You have more households being created by all of these factors. Especially if you go back and see what was going on 30 years ago. The average size in public housing is smaller. Occasionally we will see a proposal come in with a four-bedroom unit or a five-bedroom unit. But we are building one, two and three [bedrooms].
There is some pushback in Providence that the new housing being constructed is primarily downtown housing not designed to accommodate families, who also need housing. Does Rhode Island need more small apartments? A healthy rental market has about a 6.5-7.5 percent rental vacancy rate, so you have turnover, you have empty units for people to come and look at. The nation is below that. Rhode Island dropped last year … to under 4 percent. And Providence is lower than the state. Providence is about 2 percent. So, we need rental apartments, as well as owner-occupied apartments. We're in a niche, but it's needed across the income ranges. Part of what's increased the demand here also is people coming from the Boston area. This is an attractive place to live.
In Massachusetts, a state law called 40B seems to have more strength in getting affordable housing built in individual towns. (The law allows developers to bypass local zoning in towns or cities that have less than 10 percent of the housing stock available at affordable prices.) What is the challenge for Rhode Island's affordable-housing requirement? FortyB has a lot more teeth. I would say, yes, we have a 10 percent law. … A [state] commission is looking at how to make it stronger.
Do you think it needs to be made stronger, to distribute affordable housing? Yes, I believe so. When you sit down and talk to a community about who would live in the housing you're talking about, it becomes a very different story. Up here, it's like numbers, ideas and images. Down here, it's "Oh, it's my best friend. It's my brother-in-law."
There are many Rhode Islanders who earn less than the state median, as well. I don't care what your job is. No one makes in their first five years what they might later. We want to accommodate that. I'm sure Ernie Almonte's salary is different today than it was 25 years ago, when we helped him buy his first house. But that was a good investment to make. It wasn't a giveaway.
Some activist groups have recommended rent control in Providence, to dampen price escalation. Is rent control an option? My preference is to build. Supply is the approach now being done in Boston. If we can increase the supply, it helps to moderate the prices. We are also involved in several efforts to make sure we maintain the affordable units that we have, that work for people at the lowest income levels. We are very committed to preservation, whether it's senior units or family housing. We need to preserve what we have. A lot of the housing we're preserving is 30 years old.
Some community advocates in Providence think city incentives via tax-stabilization agreements should not be used on luxury housing. The Fane Organization tower could be the next argument over this. Should public incentives be used for luxury product? I would just say the TSA process needs to be predictable. No matter what program we run, people want predictability. In Providence, TSAs are needed so we have predictability. If you meet these requirements, you can come in.
Sen. Howard Metts, D-Providence, has raised the issue of discrimination against Section 8 tenants, that the people who hold the vouchers are having trouble finding apartments. He has proposed a law that would prevent landlords from using the source of income as a reason to block a lease. Is this an issue? Absolutely. Thirteen states have that law, including four New England states. We're supportive of [his proposal].
Gov. Gina M. Raimondo has proposed a transfer to the state of $5 million from R.I. Housing in fiscal 2019. Can the state "scoop" your funds? The board will have to vote on it. We're going to minimize the impact. It will have an impact, obviously, but we're going to minimize it. This came up in January. We know the budget will be made by the end of June.
Why did you agree to do it? The governor controls the board and we're part of the team. Someone talked to the chairman. It's not an optimal situation. But we're going to minimize it. We get rated by the bond-rating agencies and we're talking with them. They will take a look at our rating. But we happen to be in a strong ­position.
According to your most recent annual audit, your loan-loss contribution fell dramatically in fiscal 2017. What is the story behind that? The market is doing better. People are doing better. We had tremendous losses during the recession, now we're on a different path. We hope it continues.
The same audit indicated that the three-month delinquencies on R.I. Housing mortgages rose between 2016 and 2017. What is the reason for that? We had a slight uptick, but we are on top of it. We are below nationwide and below New England. We have new metrics we're following and are working with our 40 brokers and lenders. We look at people's credit scores and we look at their ratios. We meet, we want [the Federal Housing Administration] to purchase our mortgages, FHA and Fannie Mae. We have some flexibility. We instituted a credit score to raise it a little, to make sure we're in line with the rest of the New England states.
Some people think homeownership shouldn't necessarily be identified as a dream for everyone. That maybe we shouldn't be encouraging homeownership. Do you have any thoughts on that? We should always have a range of housing options. … There are people who need a homeownership opportunity, they've saved for years. It may be a single-family, a townhouse, a condominium. We need rental opportunities. Seniors who owned a home who need a rental opportunity. Supportive opportunities, say veterans, where there are services on-site for them. And we also work on properties where we have the vouchers. Every community needs to think, at different points in people's lives … there are different reasons why people choose types of housing.