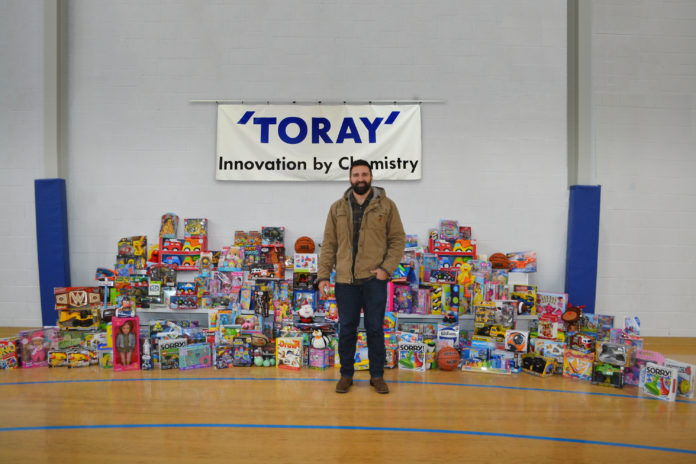 North Kingstown, Rhode Island (December 14, 2017)—Toray Plastics (America), Inc.(www.toraytpa.com), held its 15th Annual Toys for Tots and Navy Caring and Sharing Breakfast on December 8 and collected more than 300 toys for the U.S. Marine Corps Toys for Tots program and $2,300 for the Newport Naval Station's Caring and Sharing program. Eighty-five Toray employees and special guest Rob Ninkovich, a retired New England Patriots outside linebacker, were on hand to celebrate the spirit of the season. The toys will be donated to local families, and the monies will help the Naval Command to provide holiday food baskets to sailors and their families, who might otherwise not be able to have a special holiday dinner.
"I am continually impressed by the thoughtfulness of Toray's employees," says Lisa Ahart, Vice President of U.S. Corporate Human Resources and Environment Health and Safety. "Their enthusiasm and generosity are unwavering. It was another outstanding year for donations, and we're very grateful to be able to help bring holiday cheer to others in the Rhode Island community."
About Toray Plastics (America), Inc.
Toray Plastics (America), Inc., is a leading manufacturer of polyester, polypropylene, bio-based, and metallized films for flexible and rigid packaging, lidding, graphic, industrial, optical, and electronic applications, and conducts all its manufacturing and metallizing at one location. Toray is also a leader in the manufacture of polyolefin, polypropylene, and polyethylene foams for the automotive and flooring industries. The company is a subsidiary of Toray Industries, Inc., the world leader in synthetic fibers and textiles, carbon fibers, plastics, chemicals, pharmaceuticals, and high-performance films, which has annual sales exceeding US$19 billion. Toray Plastics (America), Inc., headquarters is located at 50 Belver Avenue, North Kingstown, RI 02852-7500; telephone 401-294-4511, fax 401-294-3410. Visit the Toray Plastics (America), Inc., website at www.toraytpa.com.
For more information about Toray Plastics (America)'s complete line of films and foams, contact Mary Osso at mary.osso@toraytpa.com or 401-667-2281.