If life gets so busy and scheduled that you only get 20 minutes a day to yourself, make them count.
Bubble Bee Soapery, a new retail store in Federal Hill in Providence, is aimed at people who want a chemical-free alternative to body and bath products. In addition to bath bars, lip and skin products, the store has dessert-themed concoctions, such as the cupcake and chocolate mousse cake bath bombs.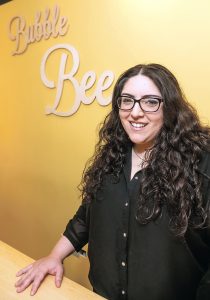 Many are made with honey, which is good for the skin and has natural exfoliants. With every sale, owner Bianca Alicea donates to the Rhode Island Beekeepers Association.
"We buy from different farms every few months," she said.
Bubble Bee Soapery opened its retail store in October, at 372 Atwells Ave. The products are manufactured at a commercial kitchen in North Providence.
"I'm a mom and a business owner, and life is chaotic," said Alicea. "If you get 20 minutes in the tub at night, you're lucky. And you really want to enjoy that experience."
Mary MacDonald is a staff writer for the PBN. Contact her at Macdonald@PBN.com.