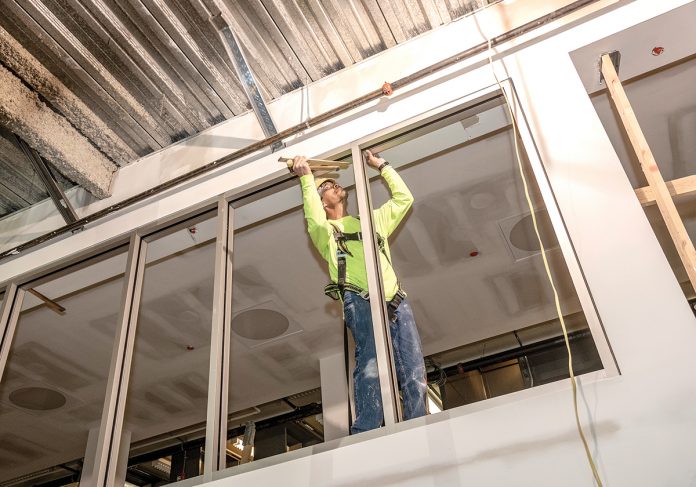 The Providence Public Library, the grand dame of Rhode Island's public libraries, is just a shell of its former self … literally.
Last fall the independent, nonprofit library put nearly all of its books and other materials – about 500,000 items – into storage, then started ripping apart its 66-year-old Empire Street wing in downtown Providence.
The $25 million project, expected to be completed next spring, is part of a national trend reimagining public libraries as places for more than traditional services such as free books and quiet areas. They are also community hubs for patrons to gather, socialize and, in an increasingly competitive job market, develop workplace skills.
Providence's library has been supplying services beyond books for years, but the reconstruction is designed to take that mission to a higher level.
"There's a misconception that public libraries give people books and that's all we do. But we really help people with their lives," said Providence Public Library Executive Director Jack Martin.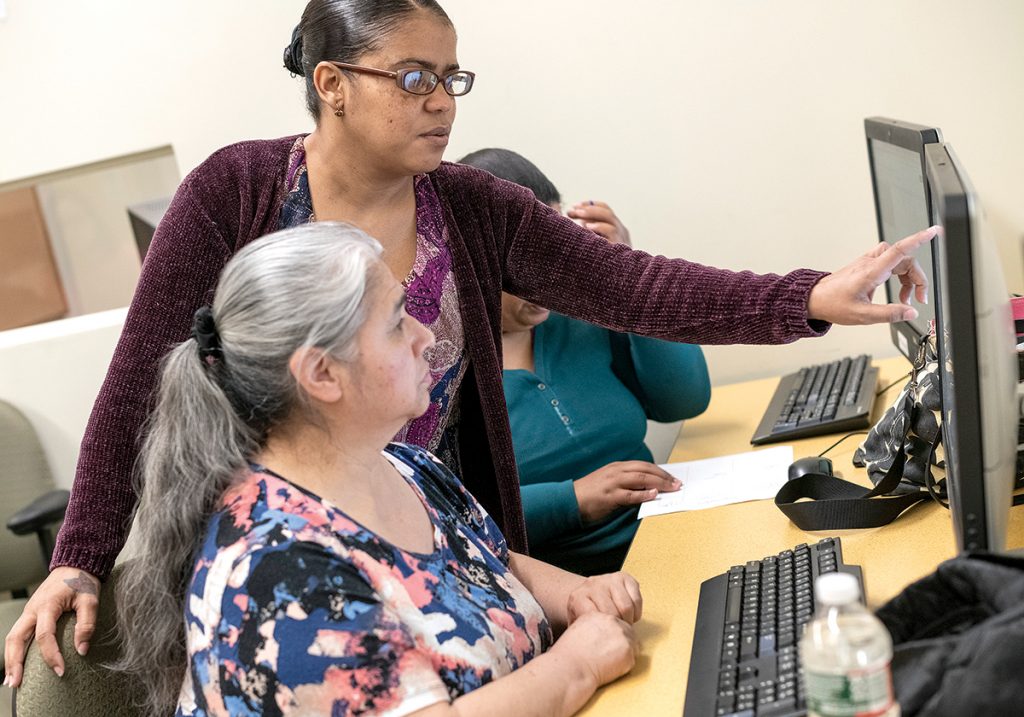 DIGITAL DIVIDE
Just ask 27-year-old Christian Mignacca. He didn't have the most auspicious start in life. As a toddler, he developed bacterial meningitis. It caused damage that led to his left foot being amputated when he was 13. Using a prosthetic foot, he graduated from high school in Cranston and went on to the University of Rhode Island. But he dropped out and started working for his father's small cleaning-supplies company.
Mignacca found direction in a free computer-skills course at the Providence library. It stirred his interest in computers, which had been dormant since he was a youngster with a penchant for video games. He completed the course then went on to more-specialized training outside the library. Today, he works as a software engineer in Providence.
"I think it was invaluable," Mignacca said about his training at the library, adding that his new job is a confidence booster. "Software engineer – it feels good when I tell people that's what I do."
Chris Lamothe, 47, of Warwick, had been wondering about a second career after he retires as a firefighter. Since he enrolled in the library's free computer courses, he doesn't wonder anymore – he knows what he wants to do next: become a website designer. He pays it forward now by teaching courses for the library in his spare time through a partnership with Cranston's public library.
"It's great for people like me, looking for a second career," Lamothe said. And giving back by teaching others, he added, "is something I feel really strongly about."
With its menu of free adult education, workforce training and technology offerings, the library is focused on closing the so-called "digital-literacy divide." That includes providing public internet access, computers and training essential for patrons – particularly for those with low incomes – to compete in today's digital economy.
Started last fall, the 83,000-square-foot reconstruction of the library's 1950s-style Empire Street wing and a small part of the original, older building will transform the library for 21st-century services and appeal. The library estimates the project will add several thousand square feet of space for public use within the building.
Dubbed the "Think Again" project, it will include:
• A three-story atrium with a centerpiece grand staircase.
• New, modern educational spaces and open technology labs to provide more high-quality programming and learning spaces for youth and adults.
• An upgraded 300-seat auditorium, including handicap-accessible features.
• Glass walls to make spaces and collections more visible and accessible.
• An exhibition space with a museum-quality gallery.
• A new collections suite to fully protect and improve access to valuable and rare holdings.
• A new building façade with improved lighting and a rebuilt entrance for the new wing at 150 Empire St.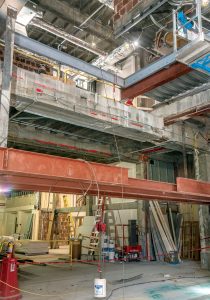 EDUCATION LABS
Rep. David N. Cicilline, D-R.I., was Providence mayor in 2009 when the library separated from the city's smaller neighborhood libraries. He acknowledges the change frayed some relationships between the city and library.
But he credited Martin for bringing "fantastic, new leadership" to the library and for developing "an outstanding relationship" with the neighborhood libraries, which now are run by another nonprofit.
"It's a different leadership and a different board since I was mayor," Cicilline said. "Their focus on workforce and community training is [complementary] to the neighborhood libraries' mission."
The Providence library was founded in 1875. The Central Library building at 225 Washington St. opened in 1900 and was built in a Beaux Arts style with private donations. The Empire Street wing was built in 1953.
When the multifloor wing is completed, the books will come back to new shelf arrangements, again available for public use. But the real difference will be in the building itself. There will be spacious classrooms and modern "learning lounges" – a far cry from the cramped, makeshift spaces the library has used for its community outreach. The project also will allow some of the programs that are held off-site to return to the library.
Essentially, the Empire Street wing "was built to be a giant book depository," Martin said. "We've been hosting classes for a very long time now, but we don't have classroom space. We converted an old area on the fifth floor of [book] stacks into a classroom. It wasn't conductive to learning and people would get lost.
"All of our programs have been sort of happening that way," he explained. "So, one of the biggest pieces of this project is that we're actually creating education labs."
So far, the library has raised about $18 million of the projected $25 million cost for the modernization. That included a $1 million lead gift from longtime donor Rosalyn Sinclair. Overall, the money comes from a mix of individual donors, charitable organizations and federal and state funding.
Like a lot of fundraising campaigns, Martin said, generating the last few million dollars will be most difficult. It could be another five years before the library raises the full $25 million, he added.
However, the funding gap shouldn't delay the project. The plan was to raise as much money as possible before and during the construction and finance the difference, then continue with fundraising after the project is completed to pay off the remainder.
"We are anticipating being done with construction by early 2020 and then, after some time for moving back in, reopening fully in the early spring [of next year]," said Tonia Mason, the library's marketing and communications director.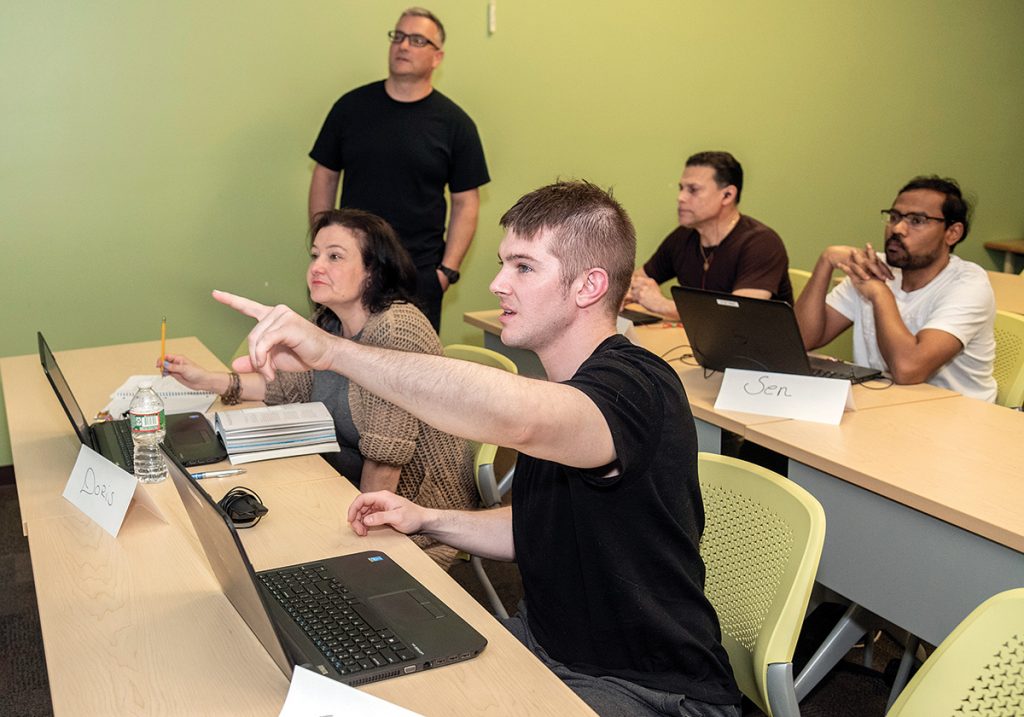 SPECIAL COLLECTIONS
During the project, which the library calls the largest construction of its kind in Rhode Island history, the library has kept its special collections in the original building. The collections include historical books and other items dating back several hundred years – including ancient tablets believed to date back to 2000 B.C. – with an estimated value of about $30 million. The collections will be moved to a new climate-controlled, secured area being created as part of the renovation.
The library's books and other materials were shipped to Connecticut for storage and are slated to be shipped back in June. But patrons won't have direct access to the books until the renovation is completed. Meanwhile, the library has been digitizing its books and materials, starting with some of its special collections.
"We did keep a very small collection [at the library] to have some material available to people coming here, and we have been expanding our collection with brand-new materials over the past several months, so that we will have a nicely refreshed collection once the items in storage return," Mason explained.
Those books "won't be available until August, and at that point, not for browsing," she added. "Our staff will have to retrieve selections until the project is complete and we are fully open."
Meanwhile, the library's plethora of free workforce-development-type programs have been serving as an "on ramp" to the state's more advanced job-training programs, Martin said. The library has aligned its programs with Gov. Gina M. Raimondo's job- training initiatives, especially the governor's signature Real Jobs RI program. The library ties its programs to the Governor's Workforce Board initiatives. It also collaborates with business and community partners, such as the Tech Collective, a Providence-based information technology association that represents various stakeholders in Rhode Island's high-tech sector.
The library receives some state money to help run its workforce programs. The state also provided funding and incentives worth about $8.8 million for the wing reconstruction.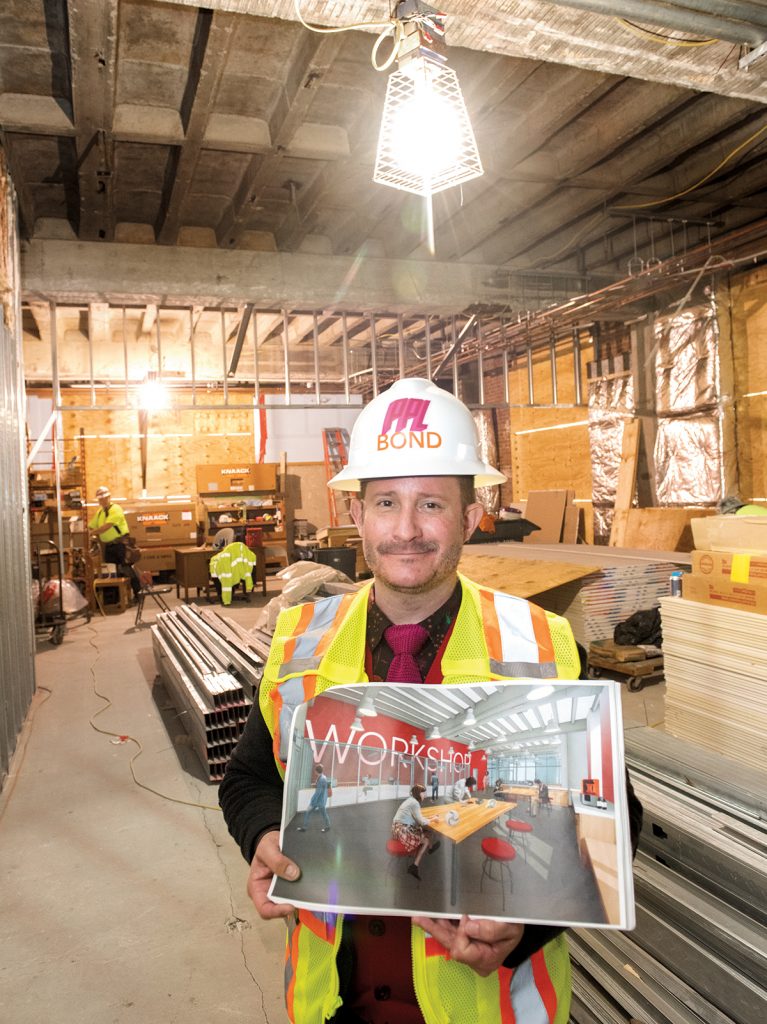 NEW DIRECTION
Martin arrived at the library in January 2014. The library's board of trustees hired him to replace the retiring Dale Thompson, who had been with the library for 34 years, including the last 25 as executive director. Prior to Providence, Martin spent 11 years with the New York Public Library.
His mission here has been to lead a new strategic plan that focuses on expanding community programs and building new relationships with partner organizations.
The library's operating budget for fiscal 2019, which ends June 30, is $5.4 million. After logging a $164,115 deficit in fiscal 2018, the library expects to end this fiscal year with a small surplus.
Overall, public libraries nationwide have experienced significant growth in programming since 2012, according to the State of America's Libraries 2019 report. The number of public library programs offered per capita has jumped 27.5% since 2012, the report found, while the number of programs attended per capita has risen 16.9%.
The national Public Library Association has been responding to that trend by offering relevant initiatives that matter most to patrons. Today, 84% of libraries nationwide offer technology training to patrons in computer software use and 73% provide programs to help people to apply for jobs, create resumes and prepare for interviews, according to the State of America's Libraries report.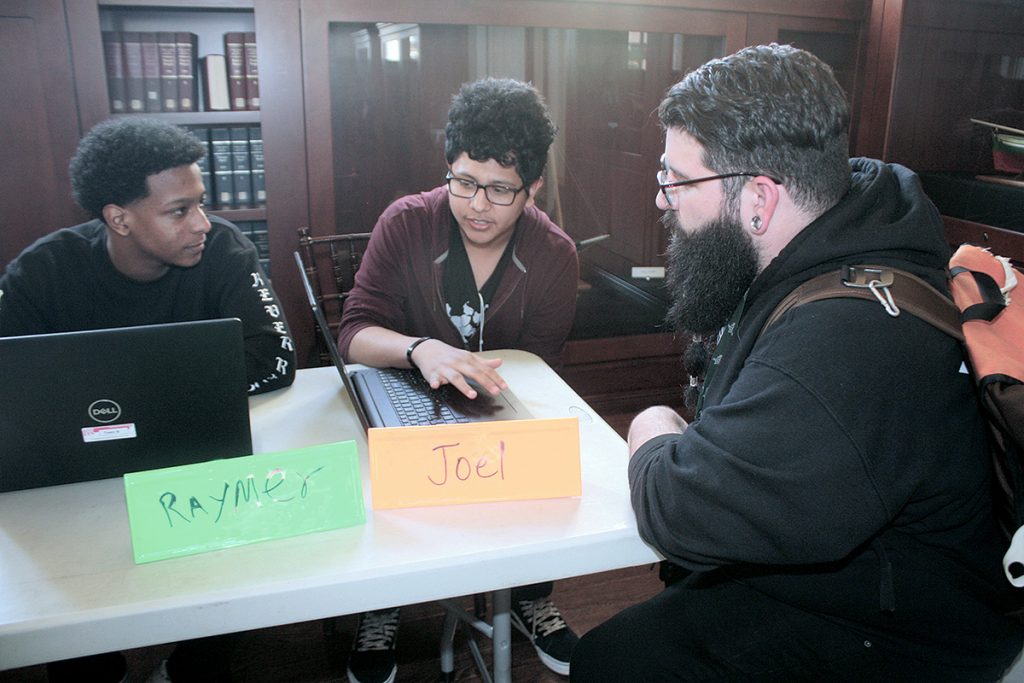 While the Providence library does offer many of these types of programs for free, it also has a few more homegrown offerings.
Teen Squad is designed to provide a framework to youngsters for their future career pursuits. Students can earn academic credits and digital credentials through the programs.
The library partners with Roger Williams University's Providence campus, located across Washington Street, for the Pivot the Hustle program. It helps incarcerated people reenter society after serving their time by assisting them in job searches, including instruction on computer skills and a "work readiness" curriculum.
"The university realized it's important to get more involved that way," said Dawn Pezzuco, director of the university's Center for Workforce and Professional Development.
Twice a year at the library, the Service Corps of Retired Executives helps entrepreneurs with advice on owning and running a small business.
From February 2018 to February 2019, the Providence library's adult workforce-development and related programs served about 2,000 people, though that includes many who attended multiple programs and were counted more than once.
Support for the programs is not a given, however. The library is still awaiting word on renewal of a federal grant it gets every two years from the U.S. Citizenship and Immigration Services. If the money doesn't come by the time the grant expires in September, it could create a shortage of funds for the library's citizenship classes and related activities, said Karisa Tashjian, the library's education director. She didn't know if the delay relates to President Donald Trump's administration's more-restrictive immigration policies.
"I see the government as one part of the overall effort" to fulfilling the library's mission, Tashjian said. "The state has been terrific in investing in us – plus the help we get from individual donors and organizations."
LEAVING HOME
One other form of outreach is the library's relationship with the Providence Housing Authority. Through the partnership, housing-authority residents are offered English-as-a-Second Language classes, computer training and other skill building. The library provides the on-site instructors.
"I love working with someone and seeing them improve to the next level," said Betty Tavares, one of the library's paid instructors. She runs sessions for residents of the housing authority's Hartford Park and Manton Heights housing complexes in the city's Olneyville neighborhood.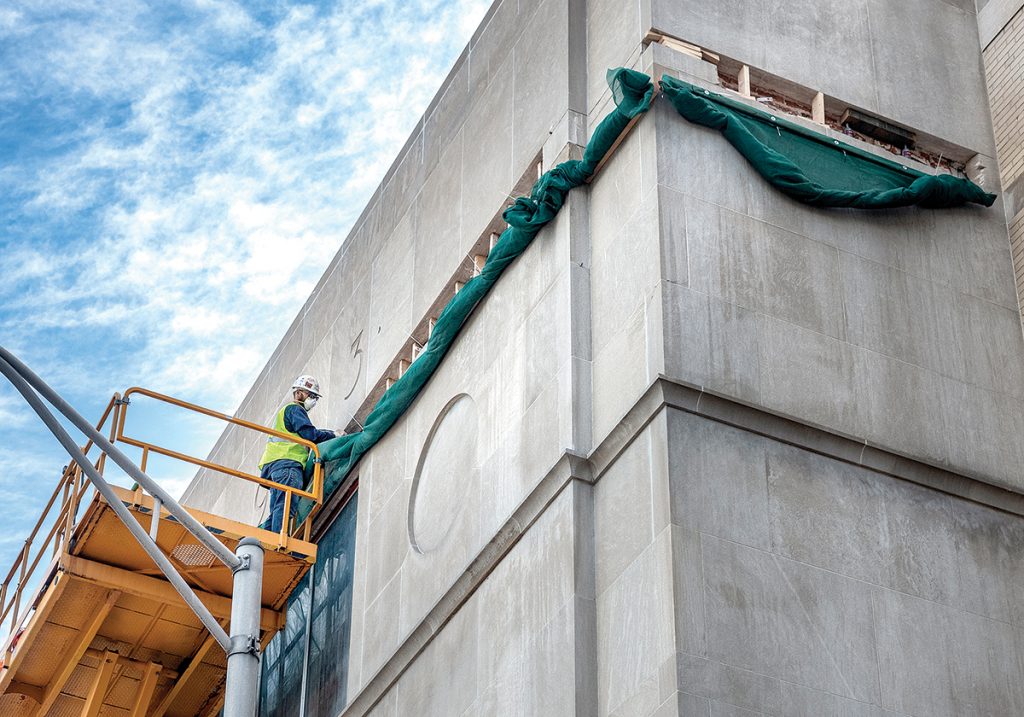 In addition, the authority is looking to partner with the library to bring such programs to Dexter Manor, the authority's housing complex for senior citizens and the disabled in the city's Jewelry District, said Julie Piccolo, the authority's associate director of resident services.
"For us," Piccolo added, "Our partnership with the library is really about helping residents 'upscale' their lives and improve their access to technology."
Don Gregory, the library's workforce-development specialist, said the best part of his job is meeting so many different people. They sometimes come to Rhode Island from around the world and need help getting a foothold in society.
"I've met so many awesome people teaching these classes," Gregory said.
One of them was Deloris Thompson, who came to the United States from Liberia as a child with her parents. The 32-year-old Johnston resident and married mother of two children had been working part time for minimum wage at a supermarket when her mother-in-law told her about the library's free computer course.
That was about two years ago. Today, she's working as a full-time software programmer for a Providence company. With her increased income, she and her husband are planning to buy the house they have been renting.
She credited Gregory and the original JavaScript computer-programming-language classes she took under his tutelage for putting her on the road to a new and improved life.
"I fell in love with it," Thompson said about working with computers.
"The night after my first class I stayed up all night studying," she recalled. "[Gregory] told me, 'You've got the bug – you're one of us.' And he was right. It completely changed my life. Now I can pay my bills and I don't have to stress over it."
Scott Blake is a PBN staff writer. Contact him at Blake@PBN.com.