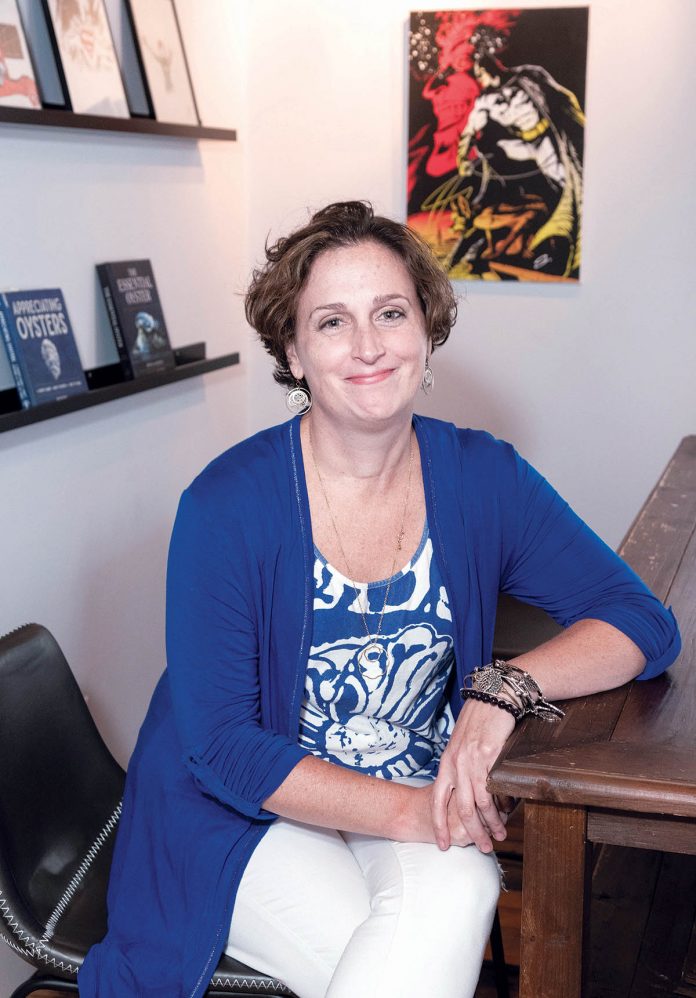 KSA Marketing + Partnerships is, in many ways, all about contrasts.
The marketing communications firm works out of a 1710 grist mill in Warwick, for instance, all while helping clients' companies develop branding ideas that will take them into their future. The company started in 2011 – not in a garage like Steve Jobs and so many other entrepreneurs – but around a dining-room table. And its founder, Katie Schibler Conn, first worked her way through various executive marketing jobs with companies such as PlayStation, taking time out in the middle of it all to be a yak farmer in Mongolia.
"PlayStation was a dream job, but it came with major sacrifices," said Conn, an Ohio native who moved to Rhode Island when she was in junior high school. "I loved everything about my job but was not feeling very fulfilled on a personal level. I dreamed of traveling. I really wanted to take a year off and be intentional about my career. I thought I would travel for six months."
Her trip alone through Asia and South America stretched to a year and a half, she said, where she picked up odd jobs along the way and learned about people and their culture. She said there are people there still living the way they were hundreds of years ago, with no running water or electricity.
"Every day was about survival," she said.
The experience – where she once went 10 days without seeing any other people, rationing baby wipes and living in a leaky tent with a shower-curtain for a rain cover – left her feeling more present than she ever had.
Back in the United States in 2011, it wasn't long before she got a call with a job opportunity from a contact with PepsiCo Inc., who heard she was arriving stateside. She was in the airport when she got the call, she said, and agreed to take on a project.
And so began the formation of KSA Marketing + Partnerships.
With her company now at six full-timers and contractors in other states, KSA – which Conn says stands for "Kick Some Ass" – has grown into a full-service marketing firm. It's seen 500 percent growth since 2011.
"We are on track to continue this trend for 2018," said Melanie Roberts, KSA media relations.
This spring, Conn was invited into the Forbes Agency Council. Its members are hand-selected to offer marketing insight and publish articles for the global business media company in areas of public relations, marketing and advertising.
Council leaders initially reached out to Conn via LinkedIn. She met with representatives and submitted information needed for proper vetting, including KSA financial information.
The council involvement has offered Conn access to closed forums, where she can communicate with other agency leaders on challenges or questions on topics such as maintaining business and pitching clients.
Conn was also a Forbes contributor to a recent panel on workplace diversity issues, featured at Forbes.com along with several other contributors.
"They take topical, timely issues and curate the best responses," she said. "It's really rewarding to be able to be a contributor and great to see different perspectives."
Though she's earned a traditional education with a bachelor's degree from Fairfield University, Conn said much of what she's learned in business can be traced back to her trip abroad.
Her time earning a degree in organizational communication was amplified by her time in Peru, Chile, Argentina, Uruguay, Brazil, Hong Kong, Vietnam, Cambodia, Laos, China, Mongolia, Russia, Kazakhstan and Uzbekistan, as she didn't speak the languages of those countries.
"I often didn't have all the information," she said. "I didn't speak the language, and I didn't always know what the plan was. Previously [in professional life], I'd need all the details. But sometimes, in crisis mode, as long as we have direction and are able to move forward, it is most helpful. It forced me to find other ways to get messages across, which can sometimes be as important as the actual messages themselves."
Not being able to rely on her traditional mode of communication – language – meant she was able to explore how other elements help get messages across in different ways.
Conn's unusual path to starting a communications firm, following an overseas stay where she roughed it and lived simply, led to a more-targeted business approach. Paying too close attention to competitors and feeling they must be on all media channels at once are concepts she works to help clients move away from.
"I always look at it this way," she said. "Marketing is a conversation. You have to know who you are having a conversation with. [Ask] 'What is the right strategy for who I'm trying to connect with?' The biggest mistake I see is the copy-cat mentality, where [a business] sees someone do something really good, really big, and they want to replicate."
Instead, she said, brands lose themselves when they are always responding to other brands. Some also tend to want to be on multiple social media platforms but don't have the resources to do so. That could lead to a loss of consistent messaging, which doesn't bode well, said Conn.
"Brands need to act like people," she said. "You can't just show up every three or four years – why would they want to connect with you? It's super simple."

Want to share this story? Click Here to purchase a link that allows anyone to read it on any device whether or not they are a subscriber.