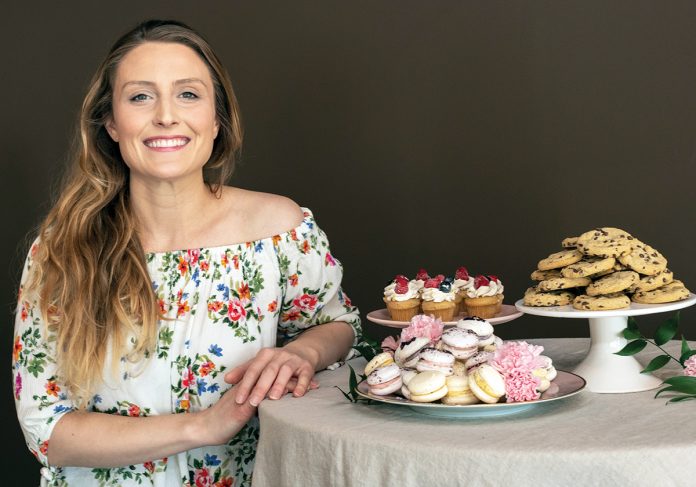 Becky Morris knew what it was like to attend a social event and find nothing on the dessert table she could eat as a vegan.
So, when she started her business, Celebrated LLC, a custom-order bakery that specializes in plant-based desserts, she knew she wanted to be able to create beautiful, delicious vegan options for every social occasion.
Less than two years after the founding, Morris now employs two part-time assistants and is happily producing custom orders and dessert tables across Rhode Island.
Her approach to ingredients is always vegan, or plant-based, and usually organic and locally sourced.
Available by consultation, the wedding options include a selection of her specialty, the French macaron. "The macarons started out really as a passion project," she said. "When I first launched, I made a promise to myself that I was going to make a vegan macaron."
Made with aquafaba, a chickpea, water-based replacement for egg whites, her vegan macarons come dressed up or down, with creamy fillings. Ingredients such as rose petals or herbs can be ground and added to the merengue cookie.
"Typically, the flavor is going to come from the filling," she explained. "Ganache, butter cream or preserves. The extracts are added to the shell, but we steer away from using too many extracts."
Morris uses a shared commercial bakery in Woonsocket. Ultimately, she hopes to move to her own retail and commercial space.
She operates mostly by custom order, but in mid-June her macarons were to become part of the Plant City vegan food emporium scheduled to open on South Water Street in Providence.
Most of her business involves social events. She hopes to spread out to more corporate events this year. The advantage of a vegan selection, she said, is it is accessible to anyone with a plant-based diet or allergies.
Morris opened her business after working in a series of bakeries in Massachusetts and Rhode Island, where she learned to make treats, such as cookies, cakes and the macarons. When she became a vegan four years ago, she began the process of converting her favorite recipes to vegan versions.
Market research told her that Rhode Island had just one dedicated vegan bakery. She decided to focus on macarons and open with a website and custom orders. "We wanted to have a destination where people who have allergies or people who are vegan would feel like they had a safe option," Morris said. "And we don't make it feel like they're missing out.
"You want to feel appreciated and feel like you're celebrated," she added.
OWNER: Becky Morris
LOCATION: 40 South Main St., Woonsocket
TYPE OF BUSINESS: Dessert shop
EMPLOYEES: Three
YEAR ESTABLISHED: 2017
ANNUAL SALES: WND
Mary MacDonald is a PBN staff writer. Contact her at Macdonald@PBN.com.