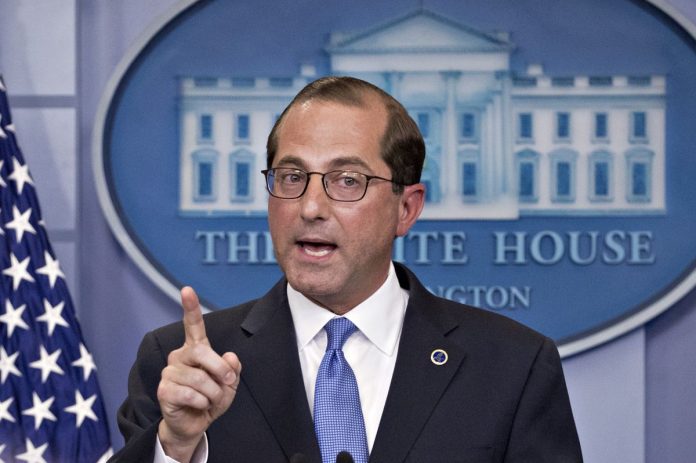 NEW YORK – President Donald Trump's top health official said the administration plans to turn up the heat on the pharmaceutical industry if it doesn't work with the government to help lower the price of drugs in the U.S.
"If industry isn't willing to work with us to lower prices, President Trump and this administration will keep turning up the pressure," Health and Human Services Secretary Alex Azar said during a speech in Washington Monday, offering more details of a plan he and Trump laid out Friday.
While the drug pricing plan outlined dozens of proposals to pressure drugmakers and reshape a supply and administration system worth hundreds of billions of dollars, it was dismissed as somewhat toothless by Wall Street, since it takes little immediate action.
Azar said that many of the proposals could come via regulation, without the need for new laws from Congress.
"This pen has a lot of power at HHS," Azar said during a session with reporters after the speech. He said the department has "incredible authority to regulate, to modify programs, to do demonstrations, to experiment."
On Monday, the Nasdaq Biotechnology Index gained 0.9 percent at 11:37 a.m. in New York, amid a smaller increase in the wider market, adding to gains Friday after Trump's address.
Negotiations
The administration's plan doesn't include direct negotiation of prices by the government in Medicare, something Trump had previously threatened. Instead, Azar said that the government would give more power to private-sector pharmacy-benefit managers to negotiate on patients' behalf.
One proposal involves shifting the coverage of some drugs in what is known as Medicare Part B, which covers therapies administered in a doctor's office or hospital. Medicare typically pays for those drugs at cost, plus 6 percent. Moving them to Part D, which covers most other prescriptions, would have insurers and drug plans negotiate the prices.
While Medicare would need a change in law to apply such a policy broadly, it could start trials of the program sooner, Azar said.
"We will not hesitate to do so," he said.
Share of two of the biggest pharmacy-benefit managers were up on Monday. CVS Health Corp. gained 2.2 percent to $65.81 and Express Scripts Holding Co. was up 1.1 percent to $73.62.
Anna Edney is a reporter for Bloomberg News.