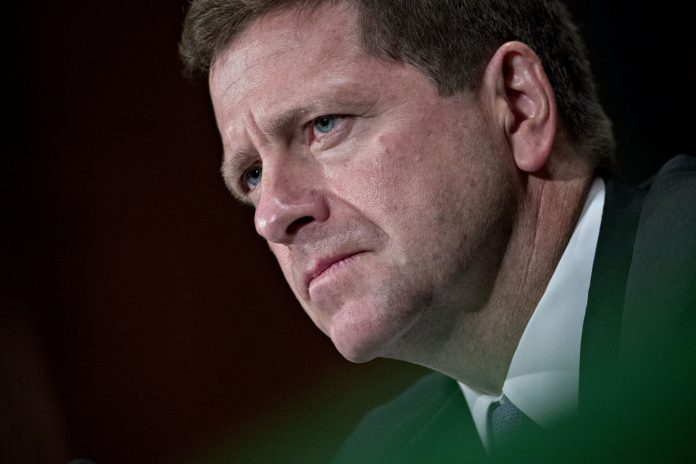 NEW YORK – The U.S. Securities and Exchange Commission on Wednesday proposed overhauling its conflict of interest rules for brokers, a move likely ensuring that Wall Street won't have to comply with much tougher regulations approved at the end of Barack Obama's presidency.
At a public meeting in Washington, SEC commissioners led by Chairman Jay Clayton voted 4-1 to seek public comment on a new "best interest" obligation for brokers. While the standard is stiffer than existing requirements, it's not as stringent as the fiduciary duty that investment advisers have to adhere to that forces them to put their clients' interests first.
In 2016, Obama's Labor Department sought to extend a fiduciary obligation to brokers who offer retirement advice, but those strictures are in limbo after recently being struck down by a federal appeals court.
The SEC proposal comes after weeks of wrangling between the agency's commissioners and months of input from investor advocates and industry groups. The regulations mark an attempt by Clayton – a former big-bank lawyer appointed by President Donald Trump – to address legal and regulatory uncertainties that were triggered by Labor's controversial rules.
If the SEC's roughly 1,000-page plan goes into effect, the industry expects it to replace the Obama-era constraints.
"Our framework is sound," Clayton said Wednesday. "It reflects a multi-pronged effort to fill the gaps between investor expectations and legal requirements."
Specifically, the SEC proposal requires that brokers disclose all "key facts" about potential conflicts, and mandate that they have a "reasonable basis" to conclude investment products are in their clients' best interests.
To address confusion over the various titles used in the financial industry, the SEC also proposed that brokers be banned from referring to themselves as "advisors" or "advisers."
Consumer advocates contend that long-standing guidelines, which only mandate that brokers offer "suitable" investments, can lead to customers being overcharged or steered to high-fee products. SEC Commissioner Kara Stein, a Democrat, said the agency's proposal won't eliminate such conduct.
"Despite the hype, today's proposals fail to provide comprehensive reform or adequately enhance existing rules," said Stein, who voted against seeking public comment. "In fact, one might say the emperor has no clothes."
The SEC will solicit feedback for 90 days. It will then amend its proposals before holding a second vote by commissioners on whether to make the regulations binding.
Ben Bain is a reporter for Bloomberg News.