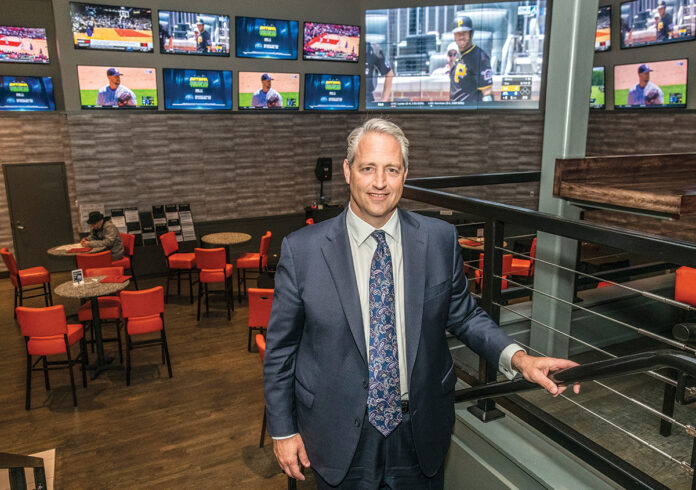 PROVIDENCE – Twin River Worldwide Holdings Inc. has added Scientific Games Corp. to its proposed bid to wrest away the lucrative Rhode Island lottery contract from International Game Technology PLC.
Twin River announced on Tuesday that it had reached an agreement with Scientific Games to offer its lottery services to the previously announced group of companies that Twin River has assembled in its proposed bid for the Rhode Island lottery contract, including Camelot Lottery Solutions and Intralot.
Scientific Games is one of IGT's chief competitors. The company is headquartered in Las Vegas.
A 20-year extension to IGT's lottery contract is favored by Gov. Gina M. Raimondo. Her administration and IGT have already negotiated terms. The proposed contract extension is currently under review through public hearings by the finance committees of the R.I. Senate and R.I. House. Any lottery contract will require approval from the General Assembly.
IGT's contract expires in 2023. The current contract was awarded in 2003 to GTECH, prior to its acquisition by IGT.
In testimony to the House in September, Raimondo said that IGT told her that it would consider moving its headquarters if it did not receive a lottery contract with the state. The company employs roughly 1,100 in the state.
Twin River again called upon the state for an open-bid process Tuesday, promising to replace those jobs or pay a $100 million fine to the state.
Both IGT and Twin River have assembled lobbyists to boost their chances for the contract and have waged an increasingly public battle over the merits of their respective contract proposals.
The contract battle has attracted attention from outside the state.
On Tuesday, Twin River touted the addition of Scientific Games to its consortium as a boon for Rhode Island.
"Today's announcement that Scientific Games has joined Twin River is further proof that there is significant interest in bidding for Rhode Island's lottery and gaming business, with virtually the entire global lottery industry now confirming that they will participate if an open, competitive bidding process develops in Rhode Island. We believe this is ultimately very good news for Rhode Island taxpayers," said Twin River Executive Vice President Marc Crisafulli.
Twin River also asserted that Scientific Games' machines have repeatedly outperformed IGT machines and would deliver more money to the Rhode Island general fund.
"Scientific Games is well known to us. Their machines in our two Rhode Island facilities outperformed IGT-controlled machines by over 50% last year, delivering on average over $31,000 more per machine to the State of Rhode Island taxpayers," Crisafulli said. "The New England gaming market has become increasingly competitive, and the addition of Scientific Games to our team is an important part of enhancing our ability to compete and deliver positive results for Rhode Island."
IGT employs over 12,000 workers worldwide. Scientific Games employs over 9,500 workers around the world. Intralot has roughly 5,200 employees worldwide.
Twin River said that the services offered by each member of its proposed partnership would be tailored to a bid issued by the state.
IGT spokesman Bill Fischer fired back Tuesday, calling the announcement a distraction.
"With each hearing day at the State House, Twin River offers an announcement in an attempt to distract elected officials from the real point of these hearings – the approval of an economic development partnership with IGT to preserve 1100 jobs and over $320 million in economic activity that is a foundation of the Rhode Island economy.," he said.  "Once again, Twin River does not present any detailed plan on how they will replace IGT's $111 million payroll or how long that would take to accomplish."
Chris Bergenheim is the PBN web editor. You may reach him at Bergenheim@PBN.com.

Want to share this story? Click Here to purchase a link that allows anyone to read it on any device whether or not they are a subscriber.