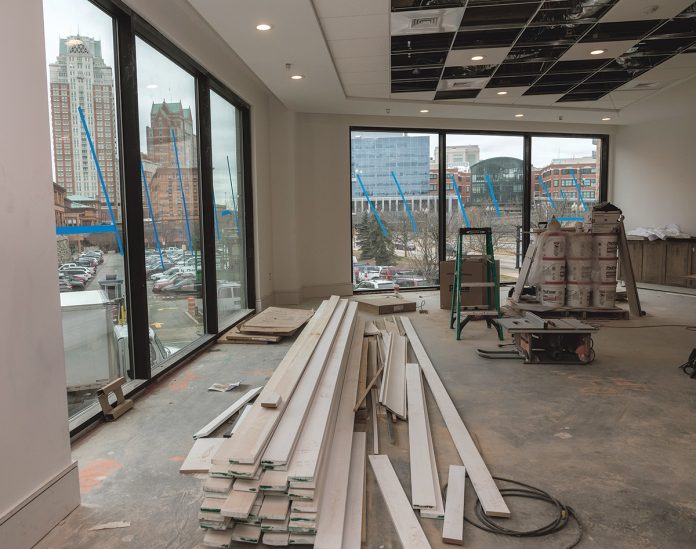 The extended-stay hotel, a segment of the hotel market that is growing nationally, will expand its downtown Providence presence this year with two new hotels.
And outside the downtown, a third extended-stay hotel opened last year on Corliss Street, in the Mount Hope neighborhood.
The hotels are in an industry segment whose occupancy has been stronger than traditional hotel properties in recent years, according to research by STR, a data and analytics company.
Its analysis of the extended-stay market found a 76.9 percent occupancy across hotel brands for the last 11 months through November 2018, which is about 10 percentage points higher than the average occupancy rate for U.S. hotels, according to Jan Freitag, senior vice president for STR.
"The target market is very specific," he said. "For one night, the room rate is not that competitive, necessarily. But for longer stays, if I have to stay in one hotel for 14 days, these extended-stay hotels make sense."
The data collected from more than 4,200 hotels indicates that demand for rooms was increasing faster than supply among extended-stay hotels. Demand for rooms, or "sold" rooms, increased 6.6 percent through November, versus a room supply increase of 6.4 percent.
In Providence, the downtown hotels will be run by the Hilton and Marriott companies, competitors that are expanding their national footprints. Altogether, the three extended-stay hotels will introduce more than 410 suites to the Providence market.
At 5 Exchange St., Homewood Suites by Hilton is nearing completion and is expected to reach the downtown market first, with a target opening of late February. The $30 million hotel will have 120 suites for guests, as well as about 5,000 square feet of retail space.
Homewood Suites by Hilton is aimed at travelers who are staying overnight or for multiple days, who want homelike suites with full-service kitchens, and separated living and bed spaces. The brand has 470 locations in the U.S., Canada and Mexico, according to Hilton, and is expanding. The Homewood Suites Providence Downtown Hotel is among 12 under construction nationally.
Built through a partnership of First Bristol Corp., of Fall River, and Paolino Properties, of Providence, the hotel will occupy a site often known as the "triangle lot" for its unusual shape.
The land was created when the city removed railroad tracks covering the site, which sits at the bend where the Providence River splits into the Woonasquatucket River.
Because much of the site had unstable materials, preparing the land for development of the hotel took three months. The hotel developer trucked 6 feet of soil onto the site, to provide compression weight, according to Jeffrey T. Karam, vice president of First Bristol Corp. They also used compaction to minimize settling.
'Families tend to like it from the leisure side.'
JEFFREY T. KARAM, First Bristol Corp. vice president
There is demand downtown for extended-stay suites, Karam said, which appeal to both families and business travelers.
"Families tend to like it from the leisure side," he said. "You can have a room with a little more space. If you're a business traveler, and we target more than five or seven nights, maybe you're in town for training for a few weeks."
The full kitchens would allow visitors to cook in their units. Providence still lacks a downtown grocery store, but the hotel will arrange with Peapod, a delivery service, to deliver to rooms any groceries the visitor orders.
Sometimes guests stay as long as three months, if they are employees working under short-term contracts, Karam said.
The Providence hotel is following the Homewood Suites pattern for programming, so it will include a gym, a meeting room, two conference rooms and other amenities for visitors. But because of the unique site, the configuration is not following a pattern, he explained.
"This isn't a cookie-cutter design," Karam said. "We have all the pieces. We're just kind of shuffling them in the box differently."
Marriott will follow with its extended-stay hotel, Residence Inn by Marriott, later this year. The project, under construction at 111 Fountain St., will include a nine-story, extended-stay hotel with 168 guest rooms. The hotel also will include 5,400 square feet of retail space at street level.
The $60 million hotel project had a "topping off" in September 2018, marking the completion of steel-frame construction.
The Residence Inn Hotel – Providence is being built by the Procaccianti Cos., headquartered in Cranston.
As a Residence Inn by Marriott, it will join a brand with 760 properties in the U.S. and Canada, according to Marriott. The company is planning as many as 250 more worldwide, according to its website.
Last year, WoodSpring Suites Providence opened with 124 rooms at 181 Corliss St., northwest of downtown. The company operates 250 hotels in 38 states, according to its website, and is expanding nationally.
Mary MacDonald is a staff writer for the PBN. Contact her at Macdonald@PBN.com.