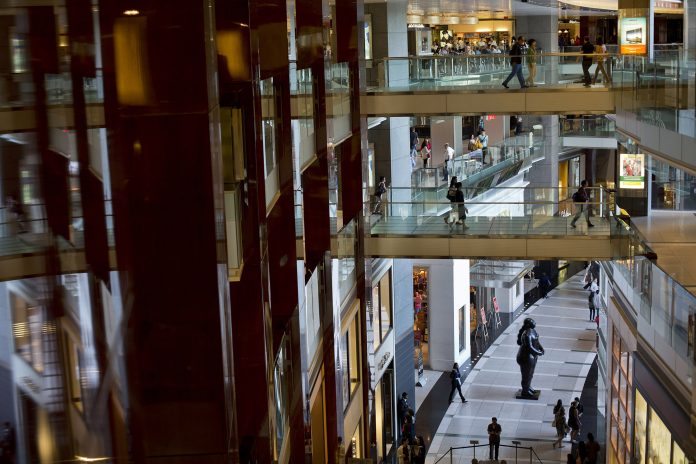 NEW YORK – United States retail sales rose for a second month in April in broad fashion as bigger after-tax paychecks helped compensate for rising fuel costs, signaling consumer demand was off to a good start this quarter.
The value of sales increased 0.3 percent, matching the median forecast, after a 0.8 percent advance in the prior month that was stronger than initially reported, Commerce Department figures showed Tuesday.
So-called retail-control group sales, which are used to calculate gross domestic product and exclude food services, auto dealers, building materials stores and gasoline stations, improved 0.4 percent after an upwardly revised 0.5 percent gain.
The results add to the expectation that consumer spending, the biggest part of the economy, will rebound from its first-quarter weak patch. A strong job market and higher take-home pay in wake of tax reductions are buoying Americans' wherewithal to spend and cushioning the squeeze from costlier fuel that leaves people with less money to buy other goods and services.
Retail sales data for February were also revised up to unchanged from a previously estimated 0.1 percent decrease.
Nine of 13 major retail categories showed advances in April, led by the biggest jump in sales at apparel stores since March of last year. Increased receipts were also evident at furniture merchants, building-materials outlets, Internet retailers and department stores.
Filling-station receipts increased 0.8 percent, the most since January and reflecting a jump in gasoline costs that are now near the highest level since late 2014. That probably boosted retail sales as Commerce Department figures aren't adjusted for price changes.
Excluding automobiles and gasoline, retail sales also rose 0.3 percent, after an upwardly revised 0.4 percent gain in the previous month.
The Commerce Department's retail report may help economists tweak their forecasts for how consumer spending began the second quarter after growing 1.1 percent in the first three months of 2018, a slowdown following three quarters of robust gains.
While consumer spending has remained solid in this expansion, business investment has also been posting strong growth in recent quarters. Tax cuts that President Donald Trump signed into law at the end of 2017 were seen as providing a further jolt to consumption and capital spending that would spur growth toward the president's 3 percent goal.
Economists including those at Bank of America Corp. and JPMorgan Chase & Co. have noted the recent runup in gasoline prices, and said persistently higher fuel costs this year would risk eroding a sizeable portion of the tax benefits.
Demand for automobiles barely rose. Purchases at automobile dealers climbed 0.1 percent after increasing 2.1 percent in the previous month.
Other details
Receipts at clothing stores increased 1.4 percent; sales at furniture stores were up 0.8 percent
Sales rose 0.2 percent at department stores and 0.3 percent at general merchandise outlets
Shobhana Chandra is a reporter for Bloomberg News.