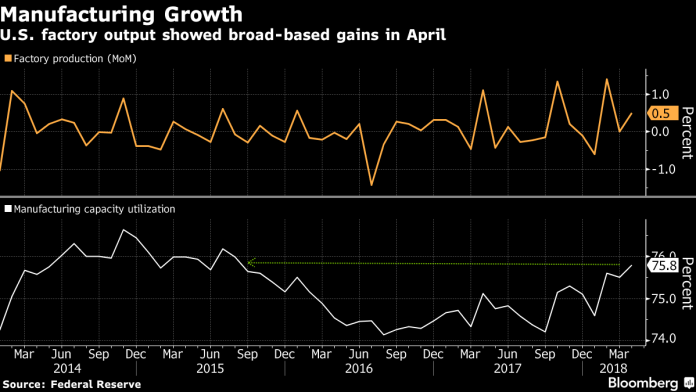 NEW YORK – United States factory production regained its footing in April to push capacity utilization to the highest since 2015, indicating the industry will support economic growth this quarter, Federal Reserve data showed Wednesday.
Highlights of industrial production (April)
Factory output rose 0.5 percent month to month (matching est.) after being unchanged in March (revised from up 0.1 percent)
Total industrial production, which also includes mining and utilities, increased 0.7 percent month to month (est. 0.6 percent rise) after an upwardly revised 0.7 percent gain; Jan., Feb. figures revised down
Capacity utilization, measuring the amount of a plant that is in use, rose to 78 percent  (est. 78.4 percent) from downwardly revised 77.6 percent (prev. 78 percent)
Key takeaways
The gain in factory output was broad-based outside of a decline in motor vehicles and parts. Several categories posted increases of more than 1 percent, including machinery; computer and electronic products; electrical equipment and appliances; and aerospace and miscellaneous transportation.
The factory-use rate rose to 75.8 percent – the highest since August 2015 – from 75.5 percent a month earlier. Even so, that's still 2.5 percentage points below its long-run average.
The results bolster the view that the industry, along with consumer spending, will contribute to a projected second-quarter rebound in economic growth. Tax cuts and steady overseas sales are expected to underpin gains in business investment. At the same time, rising prices for materials and tariffs on imported metals, along with U.S.-China trade tensions, pose risks for American manufacturers.
Automobile and parts production decreased 1.3 percent after two months of strong gains, the Fed's report said. That's consistent with government figures based on industry reports and released earlier, which showed motor-vehicle sales cooled in April.
Revisions to data had the effect of paring gains in factory production in the first three months of the year. Manufacturing output rose at an annual rate of 1.4 percent in the quarter, down from a previously reported 3.1 percent. That followed a 5.2 percent gain in the fourth quarter of 2017, which was the best since early 2012.
Other details
Utility output rose 1.9 percent after surging 6.1 percent the prior month
Excluding autos and parts, manufacturing output rose 0.6 percent after falling 0.2 percent
Mining production advanced 1.1 percent; with oil and gas well drilling rising 3 percent
Production of consumer goods rose 0.9 percent, and output of business equipment expanded 1.2 percent, the most in a year
Machinery production increased 2.3 percent
The Fed's monthly data are volatile and often get revised; manufacturing, which makes up three-fourths of total industrial production, accounts for about 12 percent of the U.S. economy
Shobhana Chandra is a reporter for Bloomberg News.