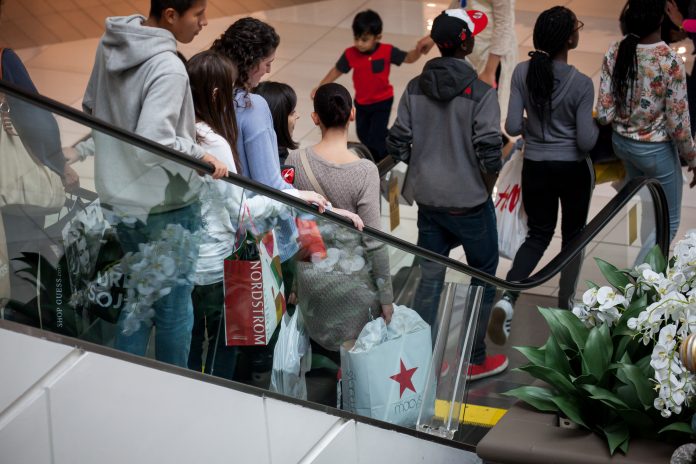 WASHINGTON – U.S. consumer prices continued to firm in February, indicating inflation is creeping up toward the Federal Reserve's target without the kind of breakout that would warrant a faster pace of interest-rate hikes.
Both the main consumer price index and the core gauge, which excludes food and energy, rose 0.2 percent from January, matching the median estimates of economists, a Labor Department report showed Tuesday. The CPI increased 2.2 percent in the 12 months through February, compared with 2.1 percent in January, while the core index increased 1.8 percent from a year earlier for a third consecutive month.
The data indicate inflation is gradually picking up without any big acceleration. That's in line with policy makers' outlook for price gains steadily approaching their goal and officials' projection for three interest-rate hikes this year, including one anticipated at the Fed's meeting next week.
"The report suggests it's more of the same: a gradual pace of rate increases, and again there's nothing here that suggests the Federal Reserve needs to slam on the brakes" with a more aggressive rate-hike strategy, said Scott Brown, chief economist at Raymond James Financial in St. Petersburg, Fla. "Just tapping on the brakes every quarter seems like a likely scenario."
With this report, it's clear the Fed is "almost certainly raising rates this month but certainly there's no reason to do more, like 50 [basis] points," Brown said.
Treasury yields dipped while the dollar gave up gains following the CPI data and came under further downward pressure following news that U.S. Secretary of State Rex Tillerson is being replaced.
The lack of an upside surprise on the CPI figures may help calm a market that remains on edge after data released in February showed wages and prices rising faster than anticipated, leading investors to sell stocks on concern the Fed would raise interest rates more aggressively.
Fed officials target 2 percent annual inflation based on a separate index, the Commerce Department's gauge linked to consumer spending. Price increases have largely remained below that goal in recent years.
Annualized gain
The increase in the core index brought the three-month annualized gain to 3.1 percent, following a 2.9 percent reading in January.
Auto prices restrained inflation, as the cost of new vehicles fell 0.5 percent in February, the most since 2009, while used cars and trucks dropped 0.3 percent, breaking a four-month streak of gains. Wireless-phone services, which constrained inflation last year, fell 0.5 percent.
"Much of the recent acceleration in core inflation – as slow as it is – has been driven by a modest easing in consumer core goods price deflation, which has resulted from continued weakness in the dollar. Meanwhile, core services inflation has been on a stable trajectory in the last few months. For core services to pick up more appreciably, wage inflation needs to accelerate. The retracement in February average hourly earnings, per the latest payrolls report, serves as a reminder that wage pressures remain tame," said Yelena Shulyatyeva and Carl Riccadonna of Bloomberg Economics
The core gauge rose less than in the prior month despite apparel costs, which helped drive the outsize gain in January, advancing 1.5 percent in February following a 1.7 percent increase. Hospital services, another component watched by analysts, fell 0.5 percent.
The CPI is the broadest of three price gauges from the Labor Department because it includes all goods and services. About 60 percent of the index covers the prices that consumers pay for services ranging from medical visits to airline fares, movie tickets and rents.
Other details
Energy prices rose 0.1 percent from previous month. Food costs were unchanged. Hotel rates decreased 0.1 percent in February. The price of airfares rose 0.6 percent. Shelter costs rose 0.2 percent. There was a 0.2 percent increase in owners-equivalent rent, one of the categories designed to track rental prices. Expenses for medical care fell 0.1 percent.
Inflation-adjusted hourly earnings rose 0.4 percent from a year earlier following a 0.7 percent increase in January.
Katia Dmitrieva is a Bloomberg News staff writer.