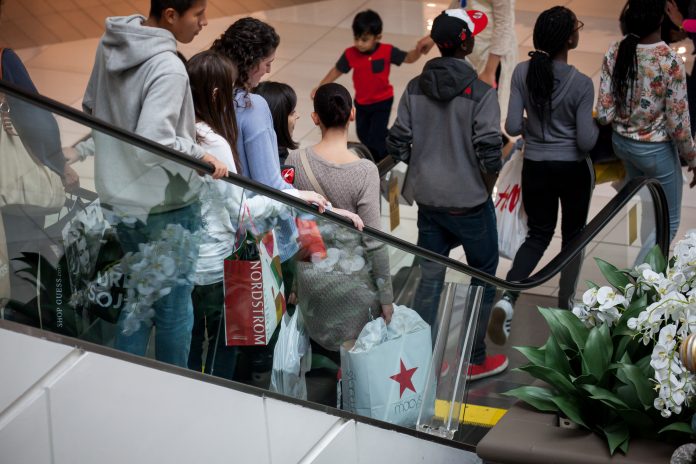 NEW YORK – United States consumer spending picked up in March while the Federal Reserve's preferred inflation gauge hit the central bank's 2 percent target for the first time in a year, reinforcing the outlook for further interest-rate hikes.
Purchases rose 0.4 percent from the prior month, matching estimates, after being little changed in February, Commerce Department figures showed Monday. The price gauge linked to consumption rose 2 percent from a year earlier after 1.7 percent in February; excluding food and energy, which officials see as a better gauge of underlying trends, it was up 1.9 percent.
The rise in consumer spending, which accounts for 70 percent of the economy, gives the economy some momentum at the end of an otherwise weak quarter, and provide some support for forecasts that consumption will accelerate this quarter as tax cuts and a gradual pickup in wages filter into Americans' bank accounts and sentiment. At the same time, the income figures were slightly below forecasts, reflecting the weakest gain in wages and salaries since October.
Even with the Fed's preferred price measure hitting its target, central bankers are likely to react with restraint and stick to their plan for gradual interest-rate hikes, though the trend could nudge them toward four increases this year. Policy makers are expected to leave borrowing costs unchanged at their two-day meeting concluding Wednesday, then raise rates in June for the second time this year.
Incomes rose 0.3 percent from the prior month, the same as February and less than the projected 0.4 percent gain; adjusted for taxes and inflation, disposable income was up 0.2 percent following a 0.1 percent rise. Wages and salaries advanced 0.2 percent, the smallest gain since October, after a 0.4 percent increase in February.
GDP report
The data in Monday's report were largely telegraphed in last week's figures on first-quarter gross domestic product, which showed consumers pulled back on their spending after a robust end to 2017.
The tax-cut legislation signed in December, and one-time bonuses announced by several companies in its wake, are helping to supplement workers' pocketbooks. Wages gave a hint of accelerating last week in Labor Department data on the employment cost index, while monthly data due this Friday are projected to show hiring rebounded in April.
First-quarter GDP grew at a 2.3 percent annualized rate, GDP data showed Friday, faster than the forecast for a reading of 2 percent but weaker than the 2.9 percent in the fourth quarter. Consumer spending advanced 1.1 percent following 4 percent in the fourth quarter.
Other details
Saving rate fell to 3.1 percent in March from 3.3 percent
Durable goods spending, adjusted for inflation, rose 1.1 percent after a 0.1 percent decrease in the prior month; nondurable goods rose 0.3 percent after a 0.4 percent decline; March goods spending reflected purchases of recreational goods and vehicles
Household outlays on services, adjusted for inflation, rose 0.3 percent after a 0.1 percent drop in prior month; March gain reflects spending on household electricity and gas
Katia Dmitrieva is a reporter for Bloomberg News.