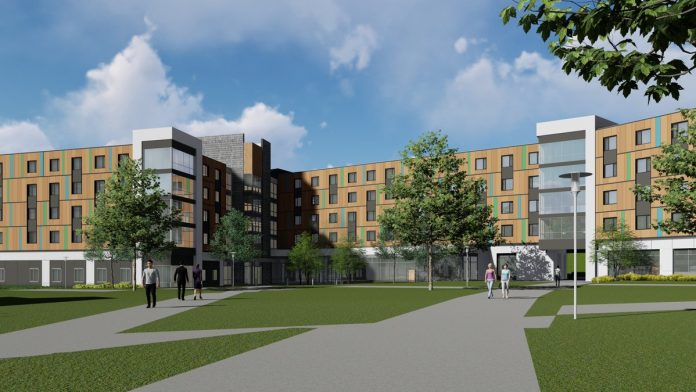 DARTMOUTH – Friday afternoon marked the commencement of construction of phase one of the University of Massachusetts Dartmouth's $188 million capital investment program announced in February and approved by the board of trustees in July.
At 2:00 p.m., ground was broken on the $134 million complex, part of the UMassDTransform2020 strategic plan.
Designed to house and feed freshmen, the facility includes a $107.8 million, 1,210-bed residence hall – the construction of which will replace four residence halls built in the mid-1970s.
Connected to the 267,500-square-foot dorm will be a $26.1 million, 38,000-square-foot dining commons capable of seating 800. Built in 1977, the current main dining hall on campus was built when the student population stood at 1,600. Today, the facility serves 3,200 students.
Expected to open in fall 2020, the dining and residence halls will be funded through a public-private partnership between UMass Dartmouth and Greystar Real Estate Partners LLC based in Charleston, S.C.
The partnership previously paired UMass Dartmouth with EdR, a national collegiate residence construction firm, however, Greystar acquired the Memphis-based company in September.
Through the deal, neither taxpayer dollars nor additional UMass debt will be used for construction of the facility.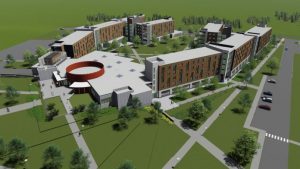 Builder of nine residence halls on the Dartmouth campus, Suffolk Construction Company Inc will lead construction of the new facility with the support of the University of Massachusetts Building Authority.
In July, the school's board of trustees also approved a $54.4 million renovation of the school's 177,000-square-foot science and engineering building from 1969. A systems-focused renovation as well as roofs, windows, heating and ventilation updates will be financed by a combination of state and university funds.
Emily Gowdey-Backus is a staff writer for PBN. You can follow her on Twitter @FlashGowdey or contact her via email, gowdey-backus@pbn.com.