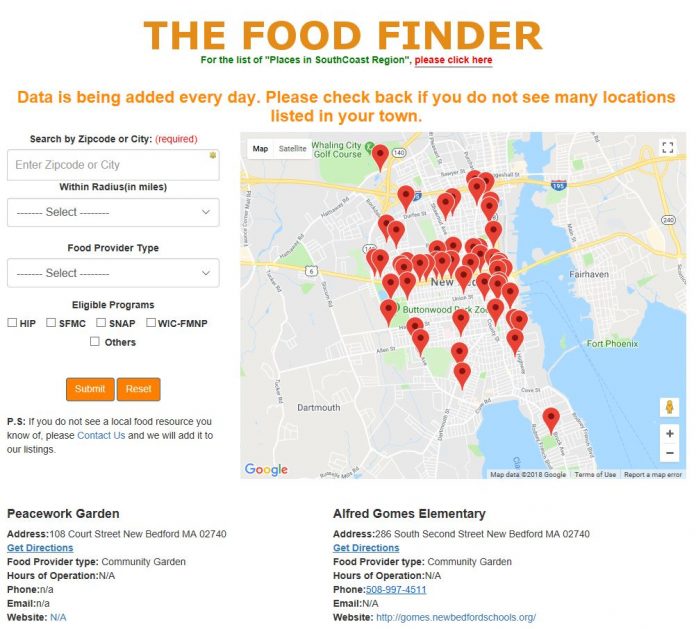 DARTMOUTH – A University of Massachusetts Dartmouth professor is hoping to bridge the hunger gap in southeastern Massachusetts through a smartphone app and a few clicks of a computer mouse.
Tim Shea, associate professor for UMass Dartmouth's Charlton College of Business, is currently creating a "Food Finder" app through which residents within southeastern Massachusetts, including Bristol County, who face food insecurity can find locations in the area where food is in supply and that can help families not go hungry. According to a press release from UMass Dartmouth, one in seven households across the Bay State is considered "food insecure," while nearly one in five children in Bristol County experience food insecurity.
In an interview Monday, Shea said the idea for the app dates back about seven years when SouthCoast Serves, a UMass Dartmouth collaborative that fosters "service and volunteerism to meet the needs of [the] community leveraging resources, expertise and capacity to maximize impact," according to the organization's Facebook page, and Deidre Healy, director of community services and partnerships for UMass Dartmouth's Leduc Center for Civic Engagement, began building relationships with several nonprofits in the region. Two and half years ago, the group came up with an idea, Shea said, on how to connect food banks with food suppliers to make it easier for people to find food.
"So, the idea was to take this very loose association and try to connect the pieces to make it [work] and put it on the web and, eventually, on a phone app," Shea said.
Shea, experienced in technology development, began working on building the app and website, foodfinder.semafoodsecurity.com, more than two years ago, he said. The website is currently live, but data is still being added into it. The app is still being tested, Shea said, with the hope that it will be available for smartphones by the fall. Along with SouthCoast Serves and Healy, Shea has worked with Christine Sullivan of 4C Collaborative and Coastline Elderly Services, Joyce Bettencourt of the Southeastern Massachusetts Food Security Network, and several UMass Dartmouth students on the project.
The app, once built, will have two components. One component, called "Food Finder," will allow users who do not have reliable nutrition the ability to find food in the area. Users will be required to type in their home zip code, and can select a radius of up to 15 miles within the zip code's location and food provider type – community garden, farmers' market, grocery store, etc. The listed cities and towns on Food Finder that offer these food locations include Acushnet, Dartmouth, Dighton, Fairhaven, Fall River, New Bedford, Somerset, Swansea and Westport.
Users can also find locations that accept various food assistance programs, such as the Healthy Incentives Program, the Supplemental Nutrition Assistance Program and the Women, Infants and Children – Farmers' Market Nutrition Program.
The app's other component, called "Food Alert," will give organizations offering food assistance a means to advertise. Shea said food providers, through this "closed" section of the app, can post through a text that they have food available to other organizations within the network. Prospective organizations can also enter information and offerings under the "Become a Partner" tab.
"If I'm a local grocery store and I know someone who works at a food bank, instead of calling [the food bank] and saying we have a palate of cheese, this now can get posted to all the people in the Southcoast region who are on this closed network and say 'We have this cheese. Is anyone interested [in it?],' " Shea said. "Hopefully, this will make the supply chain work more efficiently."
Shea hopes if the app is successful that it could branch out beyond southeastern Massachusetts and across the Bay State, saying there is "no reason" that this system couldn't be available to any area or state.
James Bessette is a PBN staff writer. Email him at Research@PBN.com.