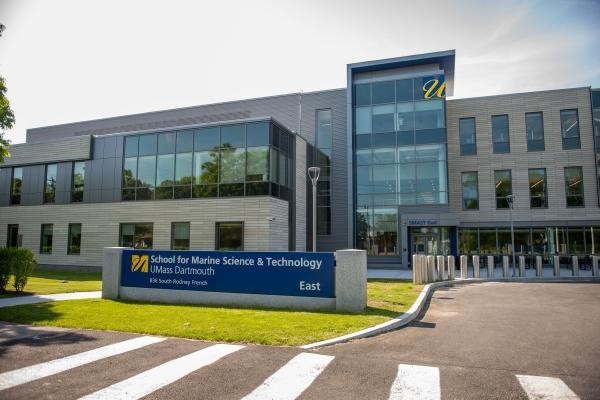 NEW BEDFORD – A LEED Silver certification was granted to the University of Massachusetts Dartmouth School for Marine Science & Technology late last month, underlining the university's commitment to being a sustainable campus.
The $55 million, 64,000-square-foot SMAST East building opened in fall 2017. Designed by Boston-based architectural firm Ellenzweig, the building includes wet and dry labs, a computational facility, classroom and conference spaces, and a temperature-controlled seawater lab.
"Achieving this LEED Silver certification is the culmination of the hard efforts of a terrific design-and-construction team working in collaboration with the university, UMass Building Authority and Mass. Department of Capital Asset Management," said Steven E. Lohrenz, dean of the School for Marine Science & Technology, in a statement. "The project has provided much-needed facilities for advancing education and research about our oceans and doing it in an environmentally responsible manner."
The Mass. Division of Marine Fisheries was involved in the design of the facility.
"Achieving LEED certification is more than implementing sustainable practices. It represents a commitment to making the world a better place and influencing others to do better," said Mahesh Ramanujam, president and CEO of the U.S. Green Building Council, in prepared remarks. "Given the extraordinary importance of climate protection and the central role of the building industry in that effort, SMAST East demonstrates their leadership through their LEED certification of Silver."
Leadership in Energy and Environmental Design awards range from LEED Certified, LEED Silver, LEED Gold and LEED Platinum, depending on the number of credits granted by the U.S. Green Building Council, manager of the program. LEED awards are given to facilities that are designed to improve environmental and health performance.
Currently more than 92,000 commercial projects are participating in the program across all 50 states and 167 countries.
Emily Gowdey-Backus is a staff writer for PBN. You can follow her on Twitter @FlashGowdey or contact her via email, gowdey-backus@pbn.com.