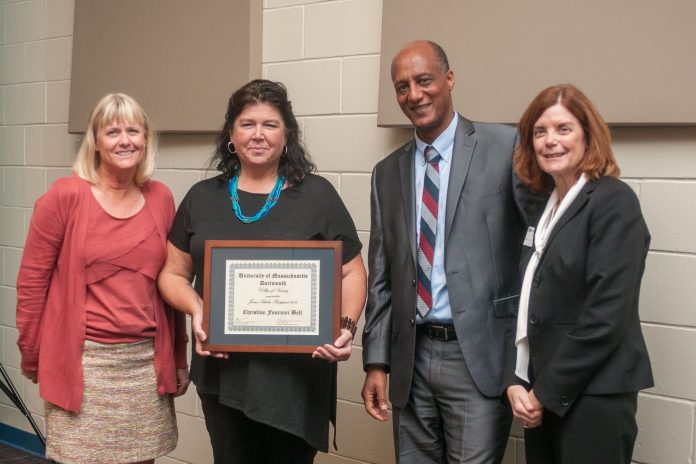 DARTMOUTH – Christine Fournier Bell, a University of Massachusetts Dartmouth second-year doctorate in nursing student from Middleboro, Mass., is the recipient of a grant from the Jonas Philanthropies Nurse Scholar program.
The grant, which is awarded by invitation only from Jonas Philanthropies out of New York City, is for $10,000 from the charity and includes not just financial support but leadership development and networking opportunities.
"Humbled and grateful," Fournier Bell, who studies combined educational and behavioral intervention on pain-management practices, said in a statement: "As a nurse who cares deeply for this population, I look forward to working alongside nurses to find new ways to provide innovative care and treatment to people living with the disease of substance use disorder. There is always hope."
Dean Kimberly Christopher explained Fournier Bell was chosen by the university for the honor because of her "scholarly record and her commitment to improving the care of persons with substance use disorders through nursing intervention in the acute care setting."
UMass Dartmouth's graduate studies office will match the funds awarded to Fournier Bell by Jonas.
Now 10 years old, the Jonas nursing scholarship has supported more than 1,000 budding nurses across all 50 states.
Emily Gowdey-Backus is a staff writer for PBN. You can follow her on Twitter @FlashGowdey or contact her via email, gowdey-backus@pbn.com.