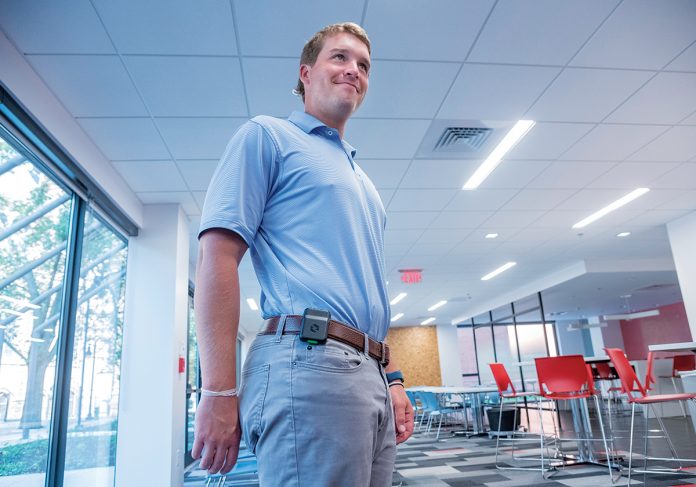 Workplace falls can be deadly on construction sites. More commonly, they lead to lost time and productivity when workers are injured.
Falls are the most common cause of death for construction workers, according to the U.S. Department of Labor, accounting for nearly 39 percent of the 991 deaths in construction reported in 2016.
With an eye toward reducing injury and increasing the speed of emergency evacuations, Providence-based Gilbane Building Co. is piloting technology that uses radio frequency identification to track workers – and their falls – on eight sites.
So far, none of the Gilbane projects in Rhode Island is testing the device, called Spot-R, which is manufactured by Triax Technologies Inc. of Norwalk, Conn.
It uses a site-generated radio-frequency system to track each device, allowing managers to not only see where the workers are located, but also receive an alert on their cellphones if someone experiences a fall.
Such falls can be modest – a jump from the back of a pickup truck or a ladder – or significant, said Don Naber, director of risk management for Gilbane.
"The primary reason why we started looking at this product is we could determine exactly when a fall happened, in real time," Naber said.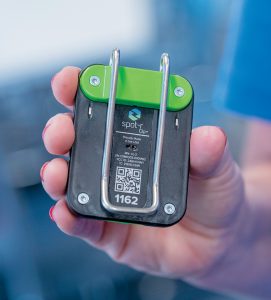 The device resembles a 1990s-era pager and is attached to a belt with a clip.
Using a contract for its test sites, the company is requiring subcontractors to have all workers wear it. If a construction worker doesn't wear it, managers will know. The device will emit a signal once it doesn't move for a period.
It also shows where workers are clustering. In the event of an emergency, instead of someone blowing a siren, which may or may not be heard, the individual clips can be activated with a vibrating alert, so workers know they need to evacuate the building.
The Spot-R tracks the wearer to within 5 feet of their location, Naber said. If someone falls, the impact of the event is recorded, and the manager is notified through an alert sent to their smartphone, Naber said. If significant enough, the manager can then direct rescue personnel to the location of the injured person.
In the past, a co-worker might have called from that floor, or not at all, he said.
"In some cases, someone wouldn't have said anything," Naber said. " 'Oh, she wasn't hurt that bad'. Only to find out, five days later, the person has a fractured hand."
The federal Occupational Safety and Health Administration does not require Spot-R as part of its efforts to reduce workplace injury and deaths.
And so far, workers are not necessarily enamored with the device.
Naber acknowledged that Gilbane has received resistance from contractor employees who don't want to be tracked. Some are concerned the device – which they typically take home – is recording where they go for lunch or after work.
The radio frequency that activates the Spot-R only encompasses the work site, Naber said. He attributed much of the initial negative reaction to misinformation.
"One of the issues we've had is workers being concerned that 'I'm being watched wherever I go, whatever I do,' " Naber said. "That's not the case."
In Rhode Island, construction unions have also expressed concerns about the device.
The unions have said its use on local work sites would have to be negotiated as part of collective bargaining, said Gregory Mancini, executive director of Build Rhode Island, an industry organization that is populated with builders, as well as labor representatives.
"Gilbane says it's a safety issue," Mancini said. "Some of the other stakeholders are not convinced it will impact safety."
Unions, he said, have spent more than $4 million on safety investments, particularly in training workers. "Nobody invests more in safety than the unions."
Naber did not disclose the cost of the technology on the eight sites where it is being piloted. He said the cost varies by project size.
The product has the potential to change worker behavior to improve safety, he said, because it can lead to a conversation between a supervisor and employee.
On the first test site – at a project at Fairfield University in Connecticut – managers were receiving so many alerts that Triax investigated, and later revised the sensitivity of the devices. It found that workers were taking short cuts that were triggering the alerts to managers.
For example, instead of walking up a short set of temporary steps on a site, the workers were jumping up, or down.
"They were on the back of pickup trucks, and on the back of delivery trucks, jumping down," Naber said. "We sat, and we talked, let's try to change the behavior. Because that becomes a repetitive motion, and obviously an impact to your knees, an impact to your ankles, jumping up and down."
The goal for Gilbane is safety, he said. "Our No. 1 priority is to have them all go home the same way they showed up that ­morning."