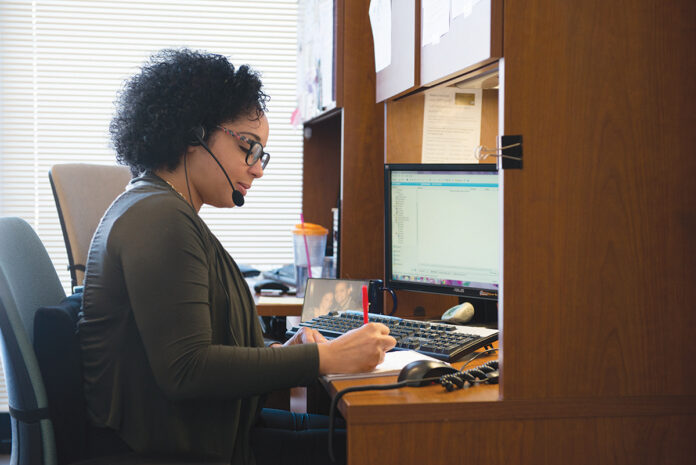 PBN Business Excellence Awards 2020
Excellence at a Midsize Company: United Way of Rhode Island
---
CORTNEY NICOLATO WAS MIDWAY through her second year at the helm at the United Way of Rhode Island when COVID-19 cases were starting to grow locally in March. However, the agency was well-prepared for the big requests that would come its way.
Lots of requests came. The nonprofit, as an active partner to the state in fielding COVID-19-related phone calls, handled all state hotline calls that came outside normal business hours. It also, through its 2-1-1 call service, helped disadvantaged individuals deal with suddenly worsening financial, health, housing and personal challenges. United Way also stayed apprised of evolving public and private funding streams and resources that could mean the difference on a given call between homelessness and rental assistance, drug abuse and drug treatment, domestic abuse and safe shelter.
Courtney Smith, who is the director of 211 in Rhode Island, was part of the service prior to the United Way staffing and running it nine years ago. She said the agency's pandemic role quickly grew at the end of February.
"We received notice from the state that we would be activated on Feb. 29," Smith said. "[People] call on us during times of disaster to provide assistance to folks who are in need, and to provide information to them during crises."
After-hour state hotline calls handled by United Way staff are reimbursed by the state on a per-call basis, as part of a memorandum of understanding between United Way and the R.I. Emergency Management Agency.
Normal volume at the 2-1-1 hotline is 400 calls per day. But during March and April, volume spiked to 800 calls per day, totaling more than 125,000 during the first six months of the pandemic. Handling that level of volume spurred technical creativity and infrastructure enhancement at the agency.
"One of our partners has a saying that we have taken to heart – innovation trumps operations in a crisis," Nicolato said. "We have really leaned into new ideas and technologies and tools so that we can continue to build our operational chops and infrastructure, which helps now but is also helping us envision how this will work in the future."
On a given day, 2-1-1 staff members sit in 40 different locations throughout Rhode Island, according to Nicolato. One little-known fact is that from midnight to 8 a.m., the 2-1-1 team in Maine covers calls made to Rhode Island's 2-1-1 line, using United Way of Rhode Island software, a practice that predates the pandemic.
Donations to the agency were strong in March and April, Nicolato said, and have fallen off slightly since then. Rather than focus on the temporary downturn in ­giving, the agency chose to look for new ways to give back to the community. It subsequently in March partnered with the Rhode Island Foundation to create the COVID-19 Response Fund, which has distributed more than $7 million in grants during the first six months of the pandemic.
Among all the state and local United Way agencies around the country, only two are partly funded by endowments, and one of those is the Rhode Island agency. The endowment, known as the Royal Little Trust, disbursed $3.4 million to the agency this year, and meant a lot to the organization during this time.
"It's the gift that keeps on giving," Nicolato said.
Dealing with the extraordinary stress of the pandemic has presented challenges to agency staff members who have relished their roles in providing help during such a crisis.
"The staff feels very strongly that this is important work, and that they're here for that purpose," Smith said. "But, yeah, all of a sudden we had staff whose children were learning remotely, who were taking care of their parents, who were trying to take care of their own lives, and who were serving people who were scared and in great stress and in need of information. We kept saying, 'This is the new normal, this is the new normal,' and there was a lot of juggling that was happening. But I'm proud to say that our staff didn't miss a beat."

Want to share this story? Click Here to purchase a link that allows anyone to read it on any device whether or not they are a subscriber.