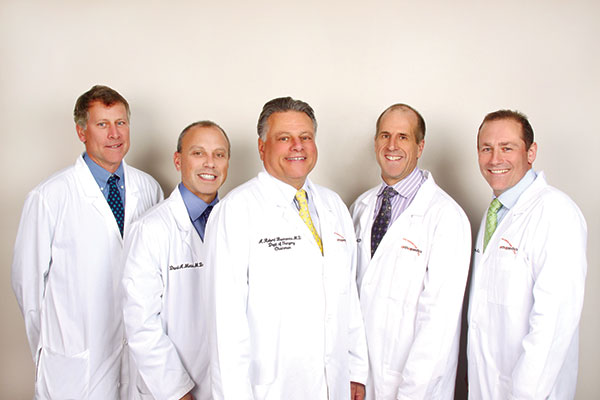 EAST PROVIDENCE – University Orthopedics has entered a collaborative partnership with The Center for Orthopaedics in Johnston, effective Jan. 1, intended to improve patient access to care.
The two companies will integrate using University Orthopedics' organizational structure. The deal will add 25 employees and six doctors to University Orthopedics' staff. With the new personnel, University Orthopedics will now have more than 400 employees and 45 medical doctors. The two companies will continue to operate under their respective names.
The Center for Orthopaedics' patients will continue to receive care and physical therapy at Atwood Medical Center at 1524 Atwood Avenue, Suite 140, in Johnston. The Center for Orthopaedics will also continue to serve the same communities and accept the same insurance carriers.
Dr. A. Robert Buonanno, Dr. Michel Arcand, Dr. Michael Belanger, Dr. John Czerwein, Dr. David Moss and Dr. Vincent Yakavonis will bring their expertise to the team at University Orthopedics. The physicians will continue to perform surgery at Our Lady of Fatima Hospital in North Providence, which is a CharterCARE Health Partners affiliate.
Buonanno, founder and principal of The Center for Orthopaedics, said partnering with University Orthopedics will make his team more effective.
"Throughout the years it's been a priority for our organization to create a family-oriented practice while providing world-class care. Our physicians and staff are dedicated to preserving the health and well-being of the communities in which we serve," Buonanno said. "Our northern Rhode Island patients will continue to receive quality care at our Johnston outpatient facility, and we will continue to operate out of Our Lady of Fatima Hospital in North Providence. This partnership will further enhance our services by offering our patients access to additional subspecialty experts in foot and ankle, pediatrics, trauma and orthopedic oncology."
"We are excited that the skilled surgeons from The Center for Orthopaedics will become part of our expanding practice," said Dr. Edward Akelman, president of University Orthopedics. "At University Orthopedics, it is our mission to provide the highest quality orthopedic care integrated with world-class education and research, and the addition of these fine physicians advances our mission even further."
Rob Borkowski is a PBN staff writer. Email him at Borkowski@PBN.com.