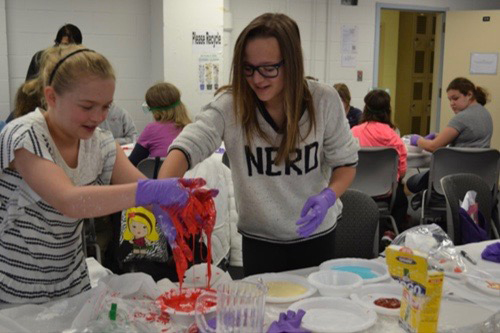 SOUTH KINGSTOWN – University of Rhode Island chemistry professor Mindy Levine looks to boost girls' interest in science for the seventh year in a row with her Chemistry Camp for middle school girls.
Though this year's camp is full, with 40 girls, a wait list is accepting names of interested parties for next year.
The free camp will be held during school vacation week, April 15-19, at the URI Multicultural Student Services Center on the Kingston campus.
According to a news release, Levine began the camp in response to statistics showing girls losing interest in science during middle school, with women earning about 57% of all bachelor's degrees and just over half of all science and engineering bachelor's degrees but still being underrepresented in science, technology, engineering and mathematics professions.
"I thought if we could target girls at this crucial age and give them a week of positive pro-girl, pro-science, hands-on excitement," said Levine, "then we really could affect their attitudes in a meaningful way."
Levine also runs a Sugar Science Day for high school girls, also at URI, each February.
Funded through Pfizer community grants, Chemistry Camp includes guest scientists, inter-active experiments and field trips to Mystic Aquarium and the Providence water-treatment plant owned by the Narragansett Bay Commission.
Susan Shalhoub is a PBN contributing writer.