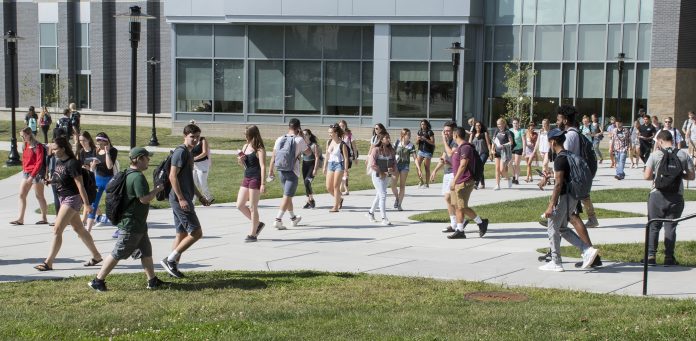 SOUTH KINGSTOWN – With Labor Day weekend four days away, the annual back-to-school crunch has arrived.
At the University of Rhode Island, the state's flagship research institute, student move-in days begin Sept. 1 and classes commence Sept. 5.
In a roundup of student statistics released Monday, the university announced it looks forward to welcoming more than 3,200 students in the Class of 2022, the majority of whom were born after the year 2000.
About 500 transfer students, 2,000 graduate students, roughly 150 Finish What You Started students, thousands of upperclassmen and concurrent enrolled high school students make up the remainder of the 18,000-student population.
URI Admissions reviewed a record-breaking 22,775 applications for the 3,250 open spots in the freshmen class and more than 1,400 transfer applications. Of those accepted for the Class of 2022 and transfers, 57 percent are women and 43 percent men with more than 23 percent self-identifying as people of color.
International studies and innovation and entrepreneurship will be added as new undergraduate majors in the 2018-19 academic year. Additional new programs featured on the URI curriculum this year include:
Graduate certificates: aquaculture and fisheries; science writing and rhetoric
Undergraduate certificates: Energy, economics and policy; innovation and entrepreneurship
Interdepartmental minor: sports media and communications
Undergraduate tuition and fees stand at $14,138 for in-state students, $30,862 for out-of-state students and $22,324 for regional students.
In addition, undergraduate room and board will cost students $12,452.
In-state tuition and fees at the graduate level are $14,924 and $27,552 for out-of-state students.
The school said that 75 percent of students enrolled in the 2018-19 academic year will receive financial aid. More than $92 million was doled out by URI for this year.
While final numbers will confirmed in October, as of late August, nearly half of incoming students (47 percent) are Rhode Island residents while 53 percent are from out-of-state or hailing from abroad. After Rhode Island, the top states represented in the freshman class are, respectively, Massachusetts, Connecticut, New York and New Jersey.
URI expects to enroll students from more than 44 U.S. states – as well as Washington D.C. and Puerto Rico – and 49 countries.
Popular majors among the incoming class include animal science, biology, business, criminology and criminal justice, engineering, kinesiology, nursing, and pharmacy.
In the upcoming 2018 midterm election, Rhode Islanders will vote on a $70 million higher education general obligation bond which includes $45 million in upgrades for the Narragansett Bay campus, home to URI's Graduate School of Oceanography.
If approved, funds from the bond will spent on improving the GSO pier constructing a 20,000-square-foot Ocean Technology building – home to a $100 million National Science Foundation research vessel – and a Marine Operations facility, among other projects.
Over the past 12 years, $900 million in construction has bought the school nearly 1 million additional or renovated building space. Continued improvements in the coming year will include:
An official ribbon cutting will be held for the Robert J. Higgins Welcome Center on Sept. 26.
The $150.5 million, 186,000-square-foot College of Engineering complex is expected to open its doors in 2019.
Currently under construction, Brookside Apartments is an apartment-style residence hall for upperclassmen expected to open in fall 2019.
A $12 million initial phase of renovations to the Fine Arts Center was approved by the Rhode Island legislature in June. The preliminary stage includes improvements to performance spaces, the facility's mechanical systems, roofing, windows and exterior walls.
Renovation and expansion projects also are in the planning and design phases for Ranger Hall and Meade Stadium, and infrastructure work continues to enhance campus sustainability, aesthetics and function, as well as transportation and parking.
Emily Gowdey-Backus is a staff writer for PBN. You can follow her on Twitter @FlashGowdey or contact her via email, gowdey-backus@pbn.com.