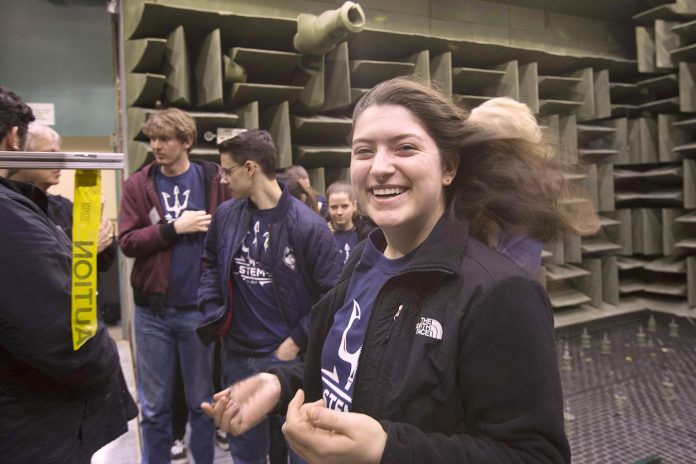 NEWPORT – About 30 University of Rhode Island and University of Connecticut engineering students toured and listened in on a panel discussion during a March 23 visit to the Naval Undersea Warfare Center Division Newport.
The event was part of the Office of Naval Research STEM Outreach Workforce Development Program initiative, according to an NUWC press release.
The day included a virtual worlds demonstration, a visit to the anechoic chamber and water and wind tunnels, as well as a tour of the Narragansett Bay Test Facility at Stillwater Basin.
Engineers on the panel spoke about their responsibilities at NUWC. Elena Gaudette from the NUWC Chief Technology Office discussed working with cutting-edge technology while highlighting her work as director of the Advanced Naval Technology Exercise.
"The [U.S.] Navy's primary concern is to maintain superiority, and there are some formidable opponents out there," Gaudette said.
NUWC Newport physicist Joshua Liberty talked about his work on the theoretical side of troubleshooting navigation issues on unmanned undersea vehicles, and about working at NUWC. "They're really good about moving you around and finding a good fit for you," Liberty said.
Christin Murphy, a research biologist, said her current project has her working with seal whiskers, and she emphasized the importance of collaboration, according to the NUWC press release.
Rebecca Chhim, who specializes in cybersecurity, discussed her field's ever-increasing importance. Steve Aguiar, the head of NUWC Newport's development of virtual worlds technologies, staged a presentation for the students.
During a tour of the Narragansett Bay Test Facility at Stillwater Basin, students learned about the dive locker, autonomous underwater vehicles and waterfront operations.
"This was an eye-opening experience for many students," said David Taggart, a professor of mechanical engineering at URI. "One of our current students, who was born and raised in Warwick, told me he had no idea about NUWC but is now very interested in working there."
URI and UConn also have an education partnership agreement with NUWC Newport. Selected students can do research projects there and benefit from the staff expertise, unique facilities and equipment related to NUWC's marine and undersea science and technology.
Susan Shalhoub is a PBN contributing writer.