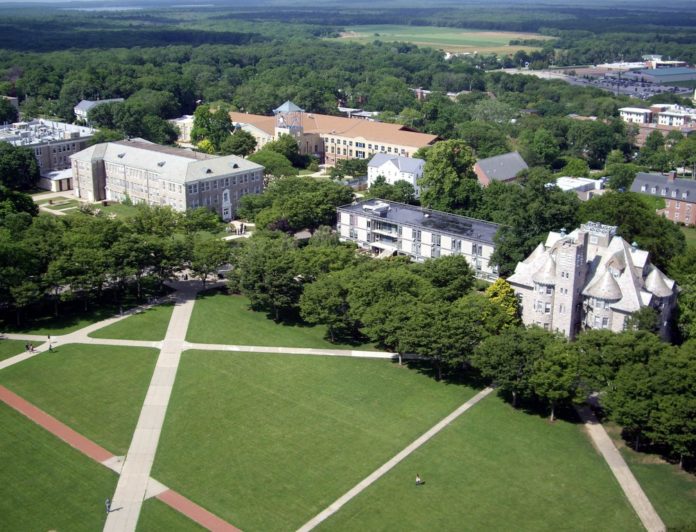 KINGSTON – The eighth annual An Evening of Grapes & Grain fundraiser for University of Rhode Island women's athletics raised $131,000, Grapes & Grain announced on Thursday.
The event, held on June 10, was attended by nearly 300 guests and was hosted on URI President David M. Dooley and Lynn Baker-Dooley's lawn at the URI Kingston campus. This year set a new record high for funds raised in the eight years of the fundraiser's existence.
"I am passionate about women's athletics and excited to be a part of this event, which continues to attract alumni and former student-athletes, as well as members of the community and supporters of women's athletics, from across the state and beyond. The impact of this event on our women student-athletes of all sports is significant," said Baker-Dooley, who leads the fundraising for the Grapes & Grain efforts each year, in a statement.
Of the money raised at the event, 25 percent goes to the Eleanor R. Lemaire Endowment, which funds enhancements to the women's student-athlete experience, team operational budgets and other special initiatives.
"An Evening of Grapes & Grain provides the URI women's athletic programs with resources not covered in the budget, whether it may be special equipment, travel opportunities or whatever the coach feels is needed," Melissa Blaney Lavallee, '79, this year's event chair, said in the statement.
According to the URI Foundation, Ellie Lemaire had a lengthy and distinguished career in athletics at URI, and was a nationally known champion of women's athletics and an advocate for the passage of Title IX. Lemaire served as event chair in 2016.
Chris Bergenheim is the PBN web editor.