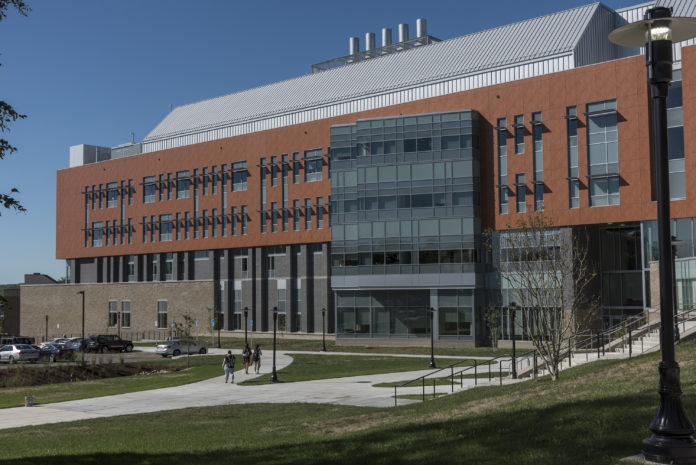 SOUTH KINGSTOWN – The University of Rhode Island has achieved a Leadership in Energy and Environmental Design Gold certification for one of its new campus buildings, the Beaupre Center for Chemical and Forensic Sciences.
It is among several buildings at URI that have received a LEED certification.
The designation for the chemical and forensic sciences building is unusual, because science buildings have high energy and technology demands, according to a university release.
The LEED Gold certification is among the most stringent levels. The highest in the hierarchy is LEED Platinum, followed by gold then silver.
The designation is made by the U.S. Green Building Council, based on the energy efficiency and building composition of the structure.
The 134,623-square-foot science building has 172 exhaust hoods and 171 exhaust snorkels that expel hazardous fumes from the building, most associated with the chemistry programs.
Despite the level of ventilation, the building system is able to capture energy, which is used to heat the building in the winter and cool it in the summer, according to URI.
In addition to the chemistry building, the Center for Biotechnology and Life Sciences, the Anna Fascitelli Fitness and Wellness Center and Hillside Hall are LEED Gold certified.
The $68 million Beaupre center opened in September 2016.
Mary MacDonald is a staff writer for the PBN. Contact her at macdonald@pbn.com.