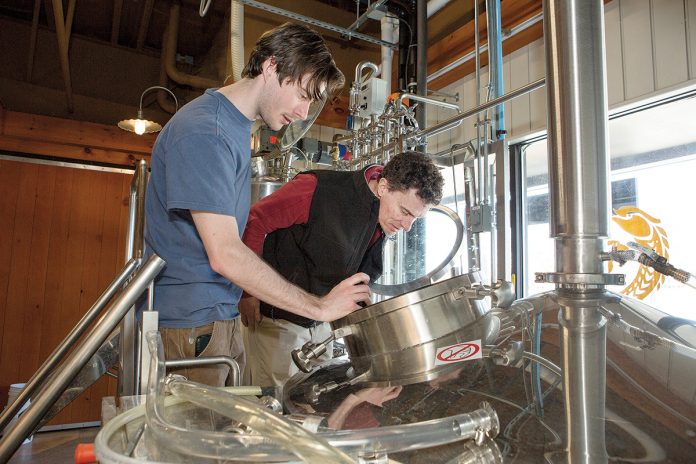 Aquidneck Island isn't exactly wine country, but don't tell the Nunes brothers.
The way their vineyard business has grown, they've re-created a piece of California's Napa Valley wine region in Rhode Island. John and Paul Nunes are co-owners of Newport Vineyards and Winery LLC in Middletown. Their family has owned land there for three generations.
Today, the business includes a 52-acre vineyard, a wine-processing and -bottling operation, a store and distribution business, a restaurant and cafe, and their latest addition – a beer brewery. Their sales and staffing have more than doubled in recent years.
"We have a good following," John Nunes, who serves as CEO, said modestly. Paul Nunes, who John Nunes called "the vineyard guy," runs the agricultural side of the business.
It wasn't always so good. About five years ago, the place was looking tired. The brothers decided to make more than $4 million in upgrades and new construction. John Nunes said the project was made possible by a loan from the Connecticut branch of Farm Credit East, part of the Farm Credit System. It's a nationwide agricultural network that provides farm loans, crop insurance, agricultural consulting, and tax and accounting services for those in agricultural businesses.
The story of Newport Vineyards goes back decades. According to John Nunes, it started in 1917 when his great-grandfather bought 40 acres of open land in Middletown to plant crops. As the automobile industry was taking hold in the 1920s, his grandfather opened an early Chrysler dealership in Newport, but the Middletown land stayed with the family.
John Nunes said his father also went into the auto business. He moved the dealership out of Newport and onto the family's land in Middletown in the 1970s. It was known as the Nunes Motor Co. When Chrysler fell on hard times in the 1980s, the family closed the auto business and eventually rented some of the building to small retailers. At about that time, a retired U.S. Navy captain into winemaking approached the family about using some of the building for a winery.
After graduating from the University of Rhode Island, John Nunes went to work for a few years as a business analyst for business data firm Dun & Bradstreet. But around 1995 he was growing tired with his job, which involved a lot of traveling. He decided to come back to Rhode Island, where he got involved in the captain's winery operation. The captain eventually retired, and then the Nunes brothers bought him out of the business.
Through the years, their wines developed a following. The focus of their operation – aside from growing and processing the grapes – was bottling and shipping their wines to customers around the region and beyond. Then the brothers decided to take the business to a higher level with the renovation and expansion.
Among the additions was the restaurant, for which they hired an executive chef to create an ever-changing menu that complements their wines. Then last summer they added Taproot Brewing Co. to offer freshly made beers. Currently, they're preparing to plant barley or hops on their land for use at the brewery. They're also gearing up for a busy summer.
"Five years ago," John Nunes said, "we had a staff of 20 people. Now we have up to 120 people in the summertime."
OWNERS: John and Paul Nunes
TYPE OF BUSINESS: Winery, brewery and restaurant
LOCATION: 909 East Main Road, Middletown
EMPLOYEES: 70 to 80 winter/up to 120 summer
YEAR ESTABLISHED: 1995
ANNUAL SALES: About $8 million
Scott Blake is a PBN staff writer. Contact him at Blake@PBN.com.