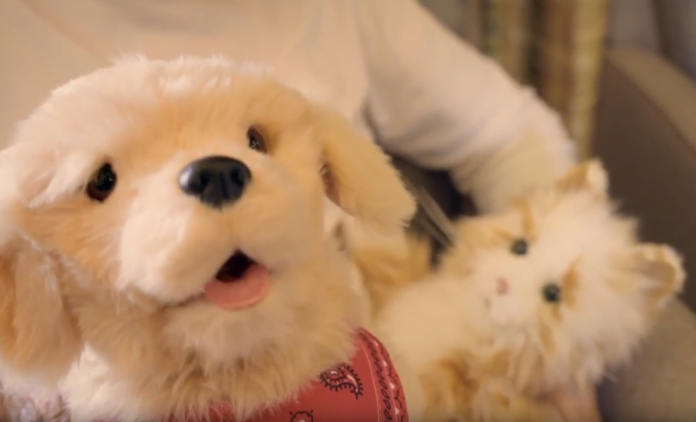 PAWTUCKET – National in-home senior care provider Visiting Angels is partnering with Joy for All, manufacturer of animatronic feline and canine companions for elderly and shut-in patients, to surprise local seniors with robotic "Golden Pups" during National Dog Week on Sept. 24.
"We are surprising seniors with an extraordinary companion pet that has many of the positive attributes of a real dog but without the responsibility," said Larry Meigs, CEO of Visiting Angels.
A 2002 study by the Western Journal of Nursing Research found that living dog and cat ownership lower blood pressure and cut back on anxiety and depression among seniors. The effect is similar with artificial animals, according to a Saint Louis University School of Medicine study in 2008.
The Golden Pups bark, wag their tail, have a heart beat and cuddle – without any of the work or expense a real dog requires, according to Joy for All. The robot pet turns toward voices and responds with realistic noises such as a bark or a cry.
"This life-like companion pet made by the folks at Joy For All will especially be helpful as a therapy tool for memory care patients," said Meigs. "Visiting Angels caregivers work with dementia and Alzheimer's patients across the country and these pups help calm them down and engage them when they are depressed or anxious."
Meigs said Visiting Angels caregivers are in the homes of local seniors for up to 12 hours at a time.
"It's often part of their routine to create interactive activities for our seniors and the Golden Pup is a great addition to the services we are already providing daily," Meigs said.  "Our angels are in seniors' homes to help them plan and prepare their meals, take medication, get to doctor appointments and run other errands, as well as provide simple companionship. They become like family and take the load off relatives who are working long hours and taking care of their own children."
Rob Borkowski is a PBN staff writer. Email him at Borkowski@PBN.com.