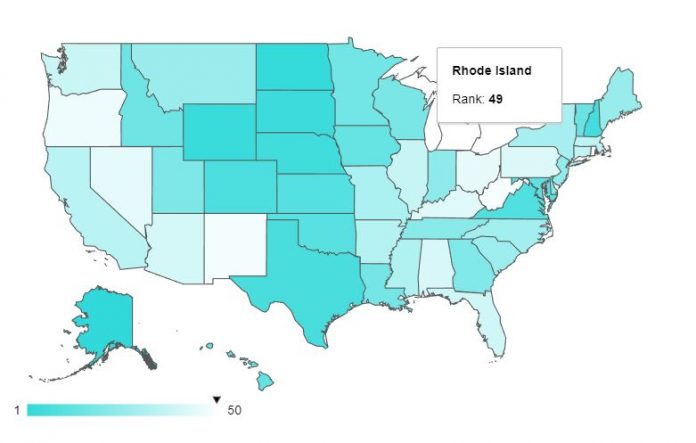 PROVIDENCE – Rhode Island ranked as America's second-least hardworking state in 2018, according to WalletHub's report "2018's Hardest-Working States in America," released Monday.
The report used 10 metrics measuring both direct work factors and indirect work factors. Rhode Island ranked No. 48 in the country for its indirect work factors in the hardest-working state ranking and No. 46 in the nation for direct work factors.
The Ocean State ranked highest in the nation for average daily leisure time at 6.4 hours per day and ranked the third-lowest for average workweek hours at 37.3 hours per week, tied with Oregon.
The state also performed poorly in annual volunteer hours per resident at 21.2 hours, ranking third-lowest in the nation.
The report also said that the share of households in the state where no adults work was 28.4 percent, ranking No. 32 in the country.
It's of note that Rhode Island lower did not have a less than average rank for lowest average commute time, for which it ranked No. 23 in the nation at 24.4 minutes.
The share of workers with a second job in Rhode Island was 5.6 percent, ranking No. 19 in the country for the highest share.
WalletHub also said that Rhode Island had the No. 30 highest employment rate in the country at 95.5 percent and ranked No. 38 in the country for share of "engaged workers," a metric defined by Gallup, at 31 percent.
The report also showed that 55 percent of Rhode Islanders do not use all of their vacation time, the 21st-highest percentage in the nation.
The report's 10 metrics were based on data from the U.S. Census Bureau, the U.S. Bureau of Labor Statistics, The Annie E. Casey Foundation, the U.S. Travel Association, Gallup and the Corporation for National & Community Service.
Alaska ranked as the hardest-working state in the country this year, followed by North Dakota and Wyoming.
Michigan ranked as the least-hardworking state in the country, followed by Rhode Island, West Virginia and New Mexico.
Rhode Island ranked lowest of any New England state. New Hampshire ranked No. 1 in New England and No. 6 in the United States. Vermont was the second-highest rated New England state at No. 15 in the country, followed by Maine (No. 26), Massachusetts (No. 35) and Connecticut (No. 36).
Chris Bergenheim is the PBN web editor. He can be reached at Bergenheim@PBN.com.