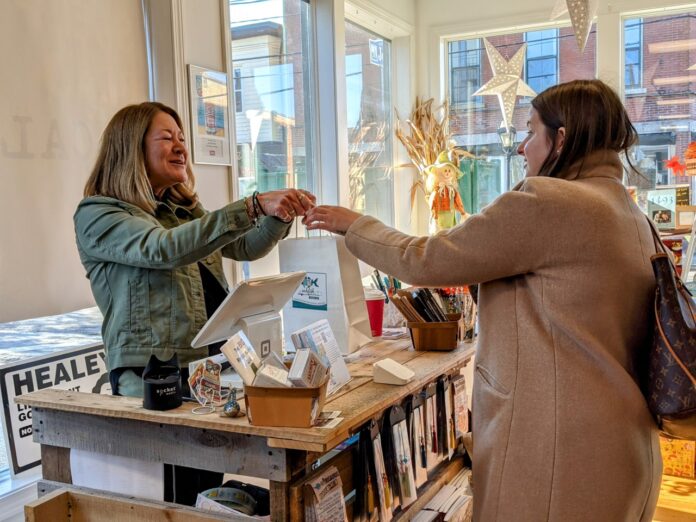 WARREN – As elected officials and locals crowded into downtown businesses on Tuesday morning for a Small Business Administration walking tour, the scene stood as a stark contrast to years past, when many business owners recall a Main Street dotted with vacant storefronts.
While downtown is a much livelier place today, continued success is never a sure thing for small businesses, said Keri M. Cronin, owner of DISH boutique on nearby Water Street.
"As a small business person, you never feel like, 'I got this,'" said Cronin, who also sits on the Warren Town Council and co-founded the Discover Warren tourism information center. "There's always the sense that tomorrow could be the day no one comes in, or my business falls apart."
As part of an annual effort to ease this pressure on small businesses, members of the R.I. Small Business Administration, Congressional delegates and local officials gathered in front of Town Hall on Tuesday morning to kick off a Main Street walking tour held in advance of Small Business Saturday.
The day after customers swarm big box retailers for Black Friday, the annual, nationwide Small Business Saturday initiative strives to shine a spotlight on shopping small and local.
For countless business owners in and beyond Warren, the anxiety Cronin described came to a head during the COVID-19 pandemic, when early lockdown measures required most businesses to put in-person services on hold.
Since launching the state's Small Business Saturday lead-up event in 2005, "We try to pick places that have easily accessible small businesses who have received SBA assistance" for the annual tour event, said SBA District Director Mark S. Hayward, and in Warren, a "tremendous" number of businesses have benefited from COVID-19 relief funding.
At the event, elected officials called on Rhode Islanders to remember small businesses as the busiest shopping days of the year swiftly approach.
"Our message is, the holidays are coming – shop small, and shop local," Sen. Sheldon Whitehouse, D-R.I. said to the group in front of Town Hall.
"They're back in business, and we want to make sure they thrive," added Sen. Jack Reed, D-R.I.
The walking tour made stops at the Coffee Depot, Ink Fish Books, Made in Warren Artist Cooperative, Warren House of Pizza, Delekta Pharmacy, Nectar De La Vida and the Gob Shop.
Lisa Valentino, founder and owner of Ink Fish Books, said that as a downtown business owner, she has felt strong support from local shoppers and other small business owners in Warren.
"I think people really want to shop local," she said. "It's really important to them."
Valentino, who opened Ink Fish five years ago, also feels that a shift in values has drawn more people to her business. Particularly after many turned to books during COVID-19 lockdowns, "people find books and reading a necessity," she said.
This year marked the first time the R.I. Small Business Administration has visited Warren for its Small Business Saturday Walking tour, and locals hope the event will continue to highlight Warren, in large part due to its local business community, as an Ocean State destination.
Small businesses are the backbone of a community, Cronin said, and "in Warren, no truer statement could be made," she said, noting that local businesses have long pitched in to help address community needs ranging from food insecurity to education improvements.
"Small businesses like this really do more than provide a place to go shopping," she said. "They're a resource in the community for sure."
Jacquelyn Voghel is a PBN staff writer. You may reach her at Voghel@PBN.com.

Want to share this story? Click Here to purchase a link that allows anyone to read it on any device whether or not they are a subscriber.