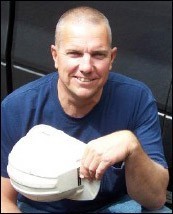 PROVIDENCE – North Smithfield-based Waterson Stevedoring Inc., a longtime provider of bulk-cargo stevedore services at the Port of Providence, has merged with terminal manager Public Asset Management Inc. to form Waterson Terminal Services LLC. Financial terms were not disclosed.
"This is huge added value for our customers," WTC spokesman Jay Baird, formerly of Public Asset Management, told Providence Business News in a telephone interview. "We'll be able to offer a lot more flexibility and efficiencies, and that's the name of the game."
The two companies had been working closely together since 2000, Baird said, "and the relationship between Meador and Waterson goes back before that."
[Editor's note: WTC's Jay Baird is no relation to www.PBN.com Web Editor Susan A. Baird.]
Public Asset Management acquired the 105-acre port facility in 1994 from the City of Providence, creating the nonprofit ProvPort Inc. as a holding company. Waterson Stevedoring was founded in 2000 by Bruce P. Waterson at the encouragement of port officials, after they fired the port's previous stevedore, recalled ProvPort Chairman Sandra Carlson.
Since then, she said, "his high standards of performance and consistent service … have resulted in a wider range of cargoes being handled through ProvPort." His company also has been providing stevedoring services at the Port of Quonset/Davisville in North Kingstown.
The new company, based at 35 Terminal Road in Providence, will be responsible for all terminal operations, lease administration and stevedoring at the port.
"We will now have the capabilities to offer one, all-inclusive service to our customers, resulting in more-efficient cargo throughput," said Waterson, who has more than 30 years experience in cargo handling. He is to serve as the company's chief operating officer, WTS said, and former Public Asset Management executive Ray Meador as its chief financial officer.
Additional information is available at www.watersonllc.com and www.provport.com, or by calling WTS at 461-9900.