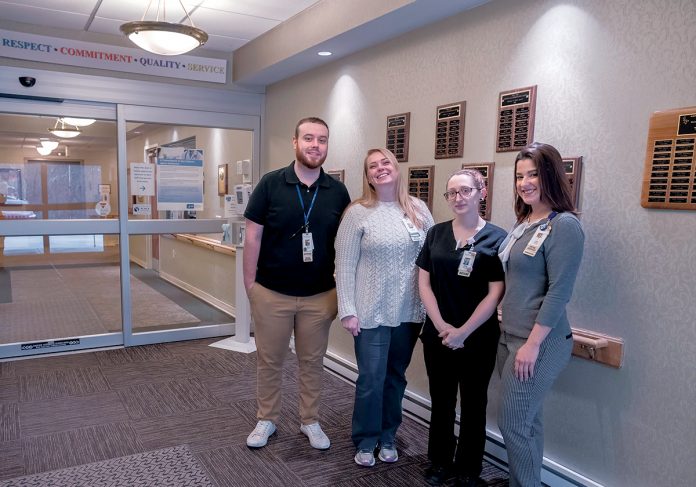 Effective relationships with doctors and care facilities require trust, which is difficult to come by for many in the LGBTQ community. But West View Nursing & Rehabilitation Center in West Warwick is extending an inclusive hand aimed at fostering such relationships by becoming the first skilled nursing facility in the state to earn certification as a Blue Cross & Blue Shield of Rhode Island LGBTQ Safe Zone provider.
"The Safe Zone designation recognizes practices that welcome all Rhode Islanders and provide culturally competent care to the LGBTQ community," said Stephanie Huckel, manager of Organizational Culture and Diversity & Inclusion at BCBSRI. "It is our hope that the Safe Zone Program helps the LGBTQ community make informed decisions about their health care, and we look forward to certifying more providers in the future."
To become certified, a doctor's office or care facility must provide staff training specific to the care of LGBTQ people, protection for patients and staff from discrimination based on gender identity or expression, gender-neutral bathrooms, inclusive forms and procedures, and make a public commitment to connecting with and serving the LGBTQ community.
Since 2016, BCBSRI has certified more than a dozen practices in Rhode Island to help ensure the LGBTQ community can find the care they need.
Hugh Hall, director at West View, said they had started work on educating their staff in compassionate, dignified care of LGBTQ people about one year ago, before they knew BCBSRI offered certification in providing such care.
Jennifer Campbell, assistant director at West View, said they began hosting training sessions with an instructor from Services and Advocacy for Gay, Lesbian, Bisexual & Transgender Elders, or SAGE/RI. The decision developed out of a concern raised by a staff member during the national discussion about the practice of providing gender-neutral bathrooms to provide equitable restroom options for transsexual people, she said.
"We really feel like she provided us with some great tools," said Campbell.
The staff learned to allow people in their care to identify themselves, learned the importance of providing supportive literature throughout the facility to promote a welcoming atmosphere and began holding focus groups to talk about LGBTQ concerns. They also established the gender-neutral bathrooms.
The facility established an LGBTQ Safe Zone committee comprised of six people meeting once per month. Members review the steps they've taken to make West View a welcoming place that provides dignity for all residents. They also explore areas where they can do more.
Mostly, she said, they now know to be aware of and open to the fact the facility is not just welcoming and supportive of LGBTQ people but likely has already served them.
"I think we're still dealing with folks that weren't entirely comfortable with discussing it," Campbell said. "My guess is that there have been many more than I know that just haven't been comfortable with having that known."
Patrick Smock, a SAGE/RI board member, said establishing the safe zone at West View will make a marked difference in the elder LGBTQ community's access to managed care by removing a barrier older LGBTQ people perceive in seeking care in a managed facility.
The decision to move into such care is a difficult one for anyone to make, but the prospect of moving into an unwelcoming environment may motivate some to put off such care past a point of medical safety.
"This makes it a lot easier for them to make that decision," Smock said.
LGBTQ elders will now know they'll be treated with respect and dignity that all individuals should have without regard to their differences, he said. Smock noted the documentary "Gen Silent," posted to www.gensilent.com, about aging LGBTQ people and their struggle to continue to live their lives in managed care environments that don't respect their lifestyles, where survival sometimes means hiding the identity they've fought their lives to live openly.
"It talks about the difficulties of growing old and being gay," Smock said, adding many of the issues are eased by safe zones.
But safe zones aren't just a benefit for elder LGBTQ people. West View also provides rehabilitation services for people recovering from stroke, amputations, cancer, and brain and spinal injuries, many of them young adults and older. The safe zone may also apply to some of them.
'It is an incredible thing to make people more … comfortable in their environments.'
JOE LAZZERINI, Rhode Island Pride president
"I think it is an incredible thing to make people more safe and comfortable in their environments," said Joe Lazzerini, president of Rhode Island Pride, adding the LGBTQ community has preferred terms they use, including preferred pronouns for people transitioning from one gender to another.
"It's important to have doctors and nurses that understand that," Lazzerini said.