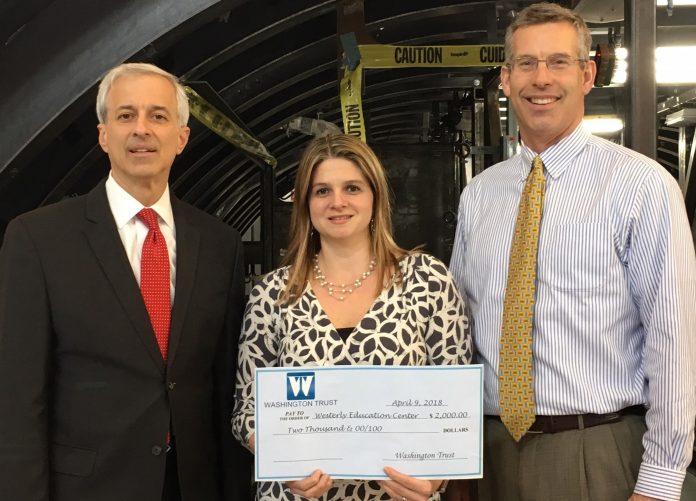 WESTERLY – The Westerly Education Center announced April 23 the receipt of a $2,000 grant from The Washington Trust Charitable Foundation.
The funds will be used to renovate two classrooms into laboratories – one chemistry and one biology – to address the center's new process technology workforce-development program and courses offered at the Community College of Rhode Island, respectively.
Amy Grzybowski, executive director, in a statement, thanked The Washington Trust Charitable Foundation for its generosity. She added: "Constructing and supplying new teaching labs at the center are required to ensure that we deliver high-quality and meaningful instruction. Because of the bank's steadfast dedication to improved education in the community, our students will learn on modern equipment used in the workplaces where they will begin their careers."
The Westerly Education Center, with local partners, will launch a process technology training program in September, which will utilize these facilities preparing individuals for careers in the pharmaceuticals-manufacturing, brewing, medical research and textile-manufacturing sectors, among others.
Edward O. "Ned" Handy III, chairman and CEO of The Washington Trust Co., said in prepared remarks he was "thrilled to support the Westerly Education Center and its commitment to providing access to quality education."
Founded in 2017, the Westerly Education Center is a public-private collaboration that unites higher education, business, industry and community partners to provide high-quality educational programs to meet projected workforce growth in the region. More information can be found at www.westerlyedcenter.org.
Emily Gowdey-Backus is a staff writer for PBN. You can follow her on Twitter @FlashGowdey or contact her via email, gowdey-backus@pbn.com.