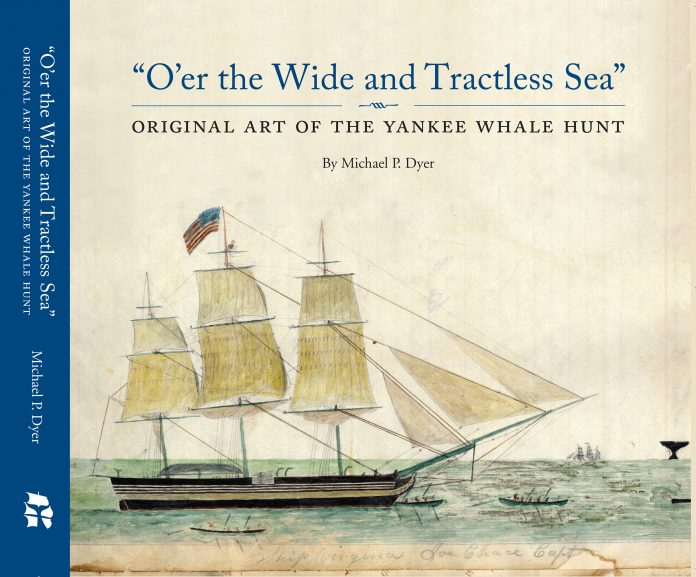 NEW BEDFORD – "O'er the Wide and Tractless Sea: Original Art of the Yankee Whale Hunt," written by Michael P. Dyer, curator of maritime history at the New Bedford Whaling Museum, has been shortlisted for the 2018 Alice Award.
One of three books to be nominated, Dyer's book focuses on the unique artwork created by whalemen while at sea. He relied on logbooks, journals and manuscripts from the whaling era to shine a light on the art of the period created by those who participated in the often-dangerous pursuit of whales for industrial use.
This year marks the sixth presentation of the Alice Award by Furthermore, a grant program based in Hudson, N.Y. The successful nominee will win a $25,000 award while the finalists will each be given $5,000.
For the 2018 prize, more than 100 books were submitted to Furthermore for consideration of the Alice Award. Eligibility for the award is granted to books that are illustrated and have a focus on intimacy.
Dyer's competition for the award includes "Debi Cornwall: Welcome to Camp America, Inside Guantánamo Bay" by Debi Cornwall, and Daniela Bleichmar's "Visual Voyages: Images of Latin American Nature from Columbus to Darwin."
The winner of the prize will be announced Oct. 8 and the award presented at The Strand bookstore in New York City on Oct. 29.
Emily Gowdey-Backus is a staff writer for PBN. You can follow her on Twitter @FlashGowdey or contact her via email, gowdey-backus@pbn.com.