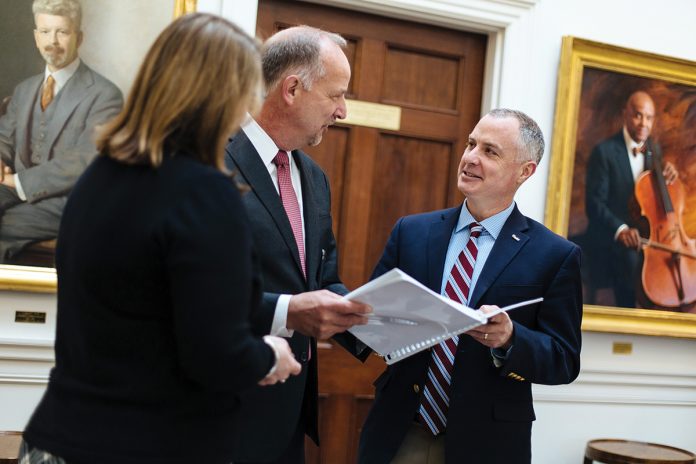 2019 C-Suite Awards | CHIEF FINANCIAL OFFICER, EDUCATION: BRIAN DOUGLAS | WHEATON COLLEGE
---
BRIAN DOUGLAS has been a force in Wheaton College's finance and administration for seven years, the past three as the department's executive vice president. But when it comes to presenting ideas to stakeholders of the private, liberal arts college in Norton, Douglas favors stories of the school's promising future over "columns of numbers" detailing the investments to get there.
A budget officer at the University of Massachusetts before coming to Wheaton, he is known for his superior ability to break things down.
"He is a master at explaining complex financial topics and this, coupled with his transparency, has helped to inform so many decisions on campus," said Wheaton College President Dennis Hanno.
Douglas relies on visuals more than rows of numbers, preferring illustrations such as line graphs and pie charts. His ability to communicate his goals for Wheaton College has elevated the school to new levels of success over the past decade. "It's about showing where we are coming from and where we are trying to go," he said.
In the midst of financial challenges for smaller colleges in terms of competition and revenue loss – with more families viewing higher education as a commodity – Wheaton is growing and implementing innovative practices while keeping expenses in check. During Douglas' tenure at Wheaton, operating revenue has increased from $71 million in fiscal 2012 to projected revenue of $80 million this year.
Debt refinancing in 2017 led to $30 million in new-construction spending; Wheaton's new dormitory is slated for completion in July. The new residence hall is crucial for growth, said Douglas. While the architectural design follows a historic theme, it is being built at "passive house" energy-efficiency standards – the first residence hall in New England to do so.
The high cost of health insurance had been another concern. Wheaton is now part of EdHealth, a consortium of educational institutions that's kept its three-year average premium increase at 0.5% for members. Douglas was instrumental in this move, said Hanno, with member schools now numbering 16.
Over the past six years, Wheaton's expenses have been kept below inflation without adversely affecting employee pay or benefits. Restructuring and strategic hiring played a role in this success, said Douglas. In terms of human resources practices, for example, he ushered Wheaton into a more performance-based framework.
"It was about helping managers instill accountability," said Douglas. "Showing the importance of performance against one's job description." This helps high performers feel valued, he said, and helps those who may be struggling in their positions to better align with their roles and improve their performance.
Two other places where Douglas' leadership resulted in true benefits have been in the areas of energy and … eating.
In line with Douglas' commitment to sustainability, he's put filtered drinking fountains and LED lighting on campus, netting $100,000 in annual savings. On his watch, a solar-panel field and roofing have been installed as well.
At the same time, the dining program was also modernized under Douglas' leadership, another tool in the school's effort to attract prospective students.
Made-to-order meals with more options, including vegan and allergy-free foods, are now the norm in renovated dining facilities for students, staff and administrators.
Keys to Douglas' success include strong, competent staff members. "I help to identify where we want to go and then get out of their way," he said. "But they really lead the way in … all we've accomplished."
A helpful practice that's benefited Wheaton is Douglas' ability to proactively handle projects that may be lagging.
"If there is a project that's struggling, we have a weekly standing meeting early in the day, say 7:30 a.m.," he said. "That gets us moving before we are off doing work for the day. … The fact that it's every week – early in the day – makes it clear that it's our priority," he said.
Next on the horizon for Douglas and Wheaton College: a multimillion-dollar science-center renovation that will make more space for Wheaton psychology and business programs.