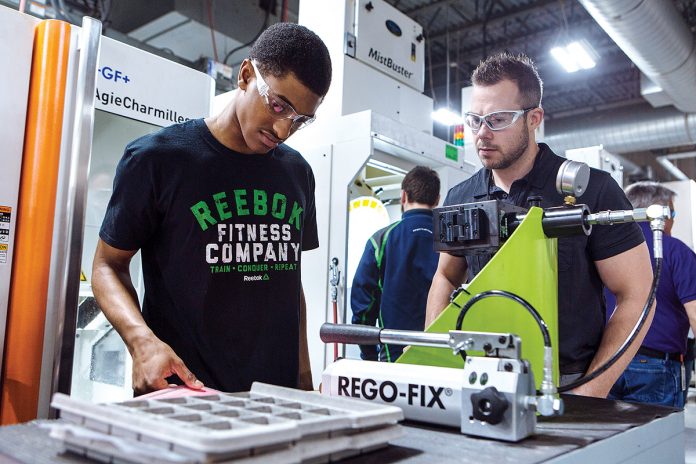 William Davies High School | Collaboration in Manufacturing
William M. Davies, Jr. Career & Technical High School in Lincoln provides advanced manufacturing training to 289 students in biomanufacturing, electrical & renewable energy, machine technology and pre-engineering programs, including 40 completing work-based learning prior to graduation.
"Our goal at Davies – and also, increasingly, a goal of the state – is for all students to have a work-based learning experience prior to graduation," said Fallon Masterson, marketing communications specialist at William Davies.
Such experiences range from job-shadowing to apprenticeships, internships and paid employment.
"We're also exploring opportunities in the coming school year that will offer our instructors the ability to pursue externships. Some teachers have already taken advantage of this, but as a school we're working to expand these opportunities, so teachers can take relevant skills back to the classroom," Masterson said.
The work-based learning program caters its design to the needs of the industry. Davies meets the needs of the employer by ensuring its curricula offer high-skilled and relevant training. This can be seen in the implementation of training in SolidWorks, 3-D software used in engineering and manufacturing. Two of Davies' advanced manufacturing programs employ SolidWorks in the curricula, giving the students a leg up in manufacturing, industrial design and engineering jobs. "By addressing skills gaps, we can increase the value of the workforce-development services we offer to the state," said Masterson.
Davies continues to evolve by employing a workforce-readiness skills standard, designed to enhance students' 21st-century employability skills (the 21st Century Workforce Rubric). The rubric is used to measure four key "soft skills": professionalism, communication, critical thinking and ­collaboration.
"We are able to address, train and provide the necessary technical skills that align to meet the needs of our industry partners. Technical skills are applied, practiced and even perfected at times in real-world, industry-related situations through our Work-Based Learning program," said Susan Votto, the school's supervisor for the Center of Advanced ­Manufacturing.