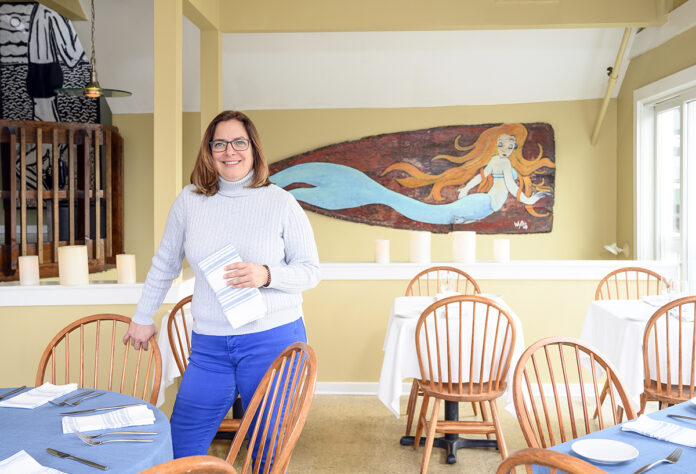 PBN BUSINESS WOMEN AWARDS 2020 ACHIEVEMENT HONOREE: Geremie Callaghan | Fluke Newport
---
GEREMIE CALLAGHAN and her husband, Jeff, were on their third date, at LeBistro, on Bannister's Wharf at Newport Harbor in 1993.
The cozy restaurant proved to be a pleasant surprise. Tucked away on the second and third floor in a building at the wharf, it was a quiet spot with nice views that felt worlds away from the crowds in Newport.
"What a fluke to know that we're in the heart of downtown Newport," Geremie Callaghan recalled Jeff saying on that date.
The memory stuck with her. The couple ended up buying that restaurant in 2007 and renamed it based on Jeff's remark – Fluke Newport. But before Fluke, neither of the Callaghans – both Rhode Island natives – had ever owned a restaurant. Jeff worked in the wine industry, in sales.
Geremie Callaghan's road to the restaurant industry was a winding one. Interested in travel, she earned a bachelor's degree in European studies, politics and government from the University of Kent in Canterbury, England. She took a job with the German company Bertelsmann Music Group, which had a music-publishing division in New York City.
Callaghan worked in the finance department, doing some light translating when communication with the company's overseas offices was needed.
For 12 years, Callaghan worked as executive director of global marketing for cosmetics giant Estee Lauder. During this time, she met Tommy Hilfiger, Donna Karan and Michael Kors and led the launch of Karan's DKNY Be Delicious fragrances for men and women.
"It was very interesting to work on, to be in a position where I saw the whole product-development process," she said. "There was a lot of 11th-hour problem-solving – a lot like working in a restaurant."
After another career move to serve as marketing director of another cosmetics company, Callaghan said she and her husband were ready for a change.
Without a plan in place, both Callaghans gave notice at their jobs in New York and left their 450-square-foot apartment on the Upper West Side – home for 15 years – behind for Rhode Island.
Callaghan credits her staff and chef Eddie Montalvo as big factors in Fluke Newport's success. Seasonal workers come back year after year, up to 30 employees overall in the high season. Fresh, local fish helps Fluke Newport provide something unique, along with a nice environment in which to dine for residents, tourists or sailors.
"People use the phrase 'hidden gem' for Fluke, and I love it," Callaghan said.

Want to share this story? Click Here to purchase a link that allows anyone to read it on any device whether or not they are a subscriber.