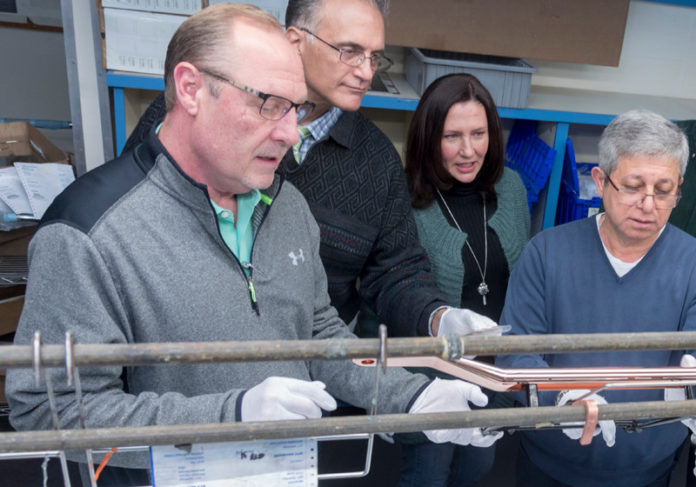 Tanury Industries has a rich history in Rhode Island. The family-owned electroplating business has been around for more than 70 years. Still, company leaders have their eyes firmly on the future.
"There's going to be some change in leadership in five to 10 years, and of course we want the company to continue to grow and prosper," said President and CEO Michael Akkaoui. "One of the best ways we could assure ourselves of a real good transfer of leadership was to start developing some folks who are currently in the organization."
To that end, the Lincoln-based company – which applies precious metal and other coatings to items that include jewelry, eyewear, automobiles, aircraft and more – is investing heavily in workforce development.
The company launched its Leadership Mentor program last year in an effort to bridge the gap between middle management and the executive team. It selected 28 employees for the leadership training, providing weekly meetings, off-site workshops and external speakers to build skills in areas such as presenting and team-building.
"We said we're not going to solve hypothetical issues," Akkaoui said. "We were going to expose the group to real-life improvement projects associated with production and lean manufacturing."
Executives incorporated all 10 solutions developed as part of the Leadership Mentor program into the company's 2017 operations plan.
One such solution involved mapping the entire product flow of all departments in the company's production facility, and identifying where it was most strategic for critical quality-control inspections to take place.
"We could ensure that as the product moved from location to location that it was good to move on to the next stage," Akkaoui said.
This year, Leadership Mentor participants will receive facilitation training. Once staff complete the program, they'll take on facilitator roles in Tanury's eight lean-manufacturing teams.
Efficiency isn't limited to the lean manufacturing, though. Tanury aims to get all employees invested in curbing waste, streamlining processes and saving costs.
Tanury processes more than 400 orders daily. Every time there's a mistake made on the production floor – be it a need for strip plating, to refurbish a base material, or start the plating process over again – the company absorbs that cost.
So two years ago, Tanury executives created a Cost of Quality initiative tied to a profit-sharing 401(k) program. Company leadership set a goal to decrease mistakes made on the production floor, tracking progress on a weekly and monthly basis. Employees beat the goal two years in a row, and Tanury passed on the cost savings to staff's 401(k) accounts.
"[Employees] know that if they can save [the product], they can participate in that savings dollar for dollar," Akkaoui said. "Whatever pot of money we save is divided equally across the board, no matter who you are in the organization."
The company also takes a creative approach to boosting efficiency and productivity. One of Tanury's lean-manufacturing teams focuses specifically on boosting workplace morale. The committee organizes monthly birthday parties for staff members, as well as an annual summer outing, among other initiatives. As a family-owned business, Akkaoui said it's important that Tanury feels like a welcome place for all of its 210 employees.
"We're a family business," Akkaoui said. "We promote family, we treat our employees like family, and we keep the culture of the company positive."
The investment in workforce development has paid off big. The company has grown 10-15 percent annually for the last five years, Akkaoui said.
"We're geared toward making sure we're serving the customer from the quality and delivery standpoint," he said. "The harder we work at improving our process and training our folks, that has a direct dividend to our customer." •