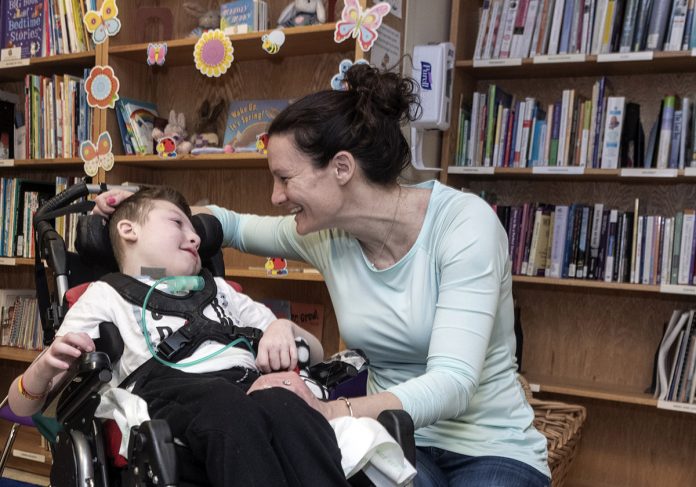 Jenn Anderson knew her son had pneumonia when he was admitted to the intensive care unit at Hasbro Children's Hospital two years ago.
She'd become accustomed to regular hospital visits with Brandon, 10, who suffers from serious respiratory infections, seizures, scoliosis and other conditions as a result of a brain abnormality.
But this time, a doctor on her rounds began to suspect that Brandon's illness was more than routine. He had a high heart rate, trouble breathing, and his fingertips remained white after the doctor squeezed them – all signs that pointed to a potentially dangerous condition.
"She said he had signs of sepsis," Anderson, of Smithfield, said.
Sepsis occurs when the body responds to an infection by attacking itself rather than targeting the organisms at the infection site.
The condition occurs most commonly in patients with complex medical conditions or who are taking medications that blunt the immune system, although it can also develop in otherwise healthy people, Dr. Susan Duffy, a pediatric emergency medical physician at Hasbro, said.
'The most effective treatment is given early on.'
DR. SUSAN DUFFY, Hasbro Children's Hospital pediatric emergency medical physician
Although most of the 54,000 children who pass through the hospital's emergency department each year never develop the condition, sepsis is the No. 1 cause of death at Hasbro.
In response, the hospital's emergency department installed a system of electronic alerts designed to catch sepsis warning signs in incoming patients, including fever, high heart or respiratory rate, or confusion.
If a child's condition triggers an alert, doctors perform a second screening, which may lead to a more specialized alert. A diagnosis and treatment follow.
The system was implemented in collaboration with the American Academy of Pediatrics and the Children's Hospital Association.
"I think it definitely saves lives," Duffy said. "The most effective treatment is given early on. The majority of children with treatment initiated [quickly] do well and recover."
The alert system signals about five times a day, with doctors getting a second alert on a patient about once a day and diagnosing a case of sepsis about once a week, Duffy said.
For Anderson, whose first experience with sepsis was Brandon's diagnosis, the system has been a comfort on return trips to the emergency room. Brandon has been admitted to the intensive care unit nine times since October, including a recent 36-day stay, and has had at least eight more experiences with sepsis.
"It's right into the trauma room. They have a protocol in place, they have a big poster on the wall, so I know right away that we're going to get a bunch of fluid and antibiotics," Anderson said. "When you come into the ER, you get different doctors all the time, but they're all working on the same page."
Part of Hasbro's sepsis initiative includes educating pediatricians and parents, which Anderson says has helped her with peace of mind at home.
"I definitely am more prepared to say 'OK, let's get to the ER so they can get started right away,' " she said.
Another alert system that analyzes patients' vital signs and other information is being tested for use in Hasbro's inpatient setting, Duffy said.
The effort parallels a push by state lawmakers to develop protocols aimed at the early detection and treatment of sepsis.
A resolution sponsored by House Majority Leader K. Joseph Shekarchi, D-Warwick, asks the R.I. Department of Health to address the issue statewide. Passed by the House in late April, the resolution did not require Senate approval.
The parents of three Rhode Island girls who died from sepsis testified in favor of the legislation before the House Committee on Health, Education and Welfare.
Doctors thought Layla Charette, 5, of Cumberland, had a routine fever in 2017, but her temperature spiked suddenly, and she died at a hospital two days later.
Emily Halloran, 10, also of Cumberland, experienced shortness of breath in 2014, only to die in less than 24 hours from sepsis stemming from enterovirus, and Gianna Cirella, 17, of Warwick, died within 16 days after coming down with a sore throat in 2017.
All three girls were healthy before developing sepsis, Shekarchi said.
His resolution, now in effect, has been passed to the health department. Officials there are beginning to meet with community advocates in preparation for creating a protocol, DOH spokesman Joseph Wendelken said.
Hasbro's focus on sepsis wasn't ordered by the General Assembly, but it fulfills its mandate all the same.
"They are asking for this, and we are doing it," Duffy said. "We've initiated these efforts without any kind of regulation."
Elizabeth Graham is a PBN staff writer. Contact her at Graham@PBN.com.