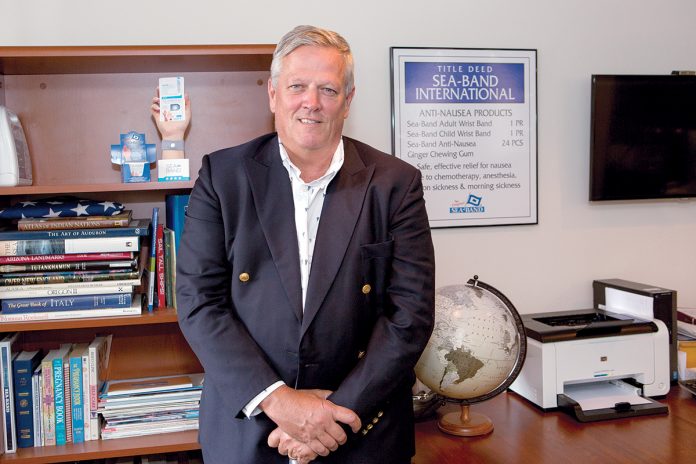 Sea-Band International creates drug-free, acupuncture-pressure wristbands to combat dizziness and nausea for travelers, pregnant women and cancer patients.
Washable and reusable, the wristbands use natural relief to reduce users' symptoms. A small plastic dot on the band stimulates the P6 acupressure point on the wrist, thereby relieving nausea and dizziness in just five minutes, according to the company.
"We are the first line of defense for nausea and we're cost-effective … that's how we're trying to position ourselves," said Leonard Nihan, a Jamestown native and Sea-Band CEO.
Now, Sea-Band sells a half-dozen products, which include anti-nausea ginger gum, wristbands for both adults and children, and a Sea-Band Mama! line that treats morning-sickness relief with essential oil aromatherapy, ginger lozenges and acupressure bands.
Sea-Band was created by Dr. Daniel Choy, whose work as a ship doctor in the 1980s using acupuncture to treat crew members' motion sickness inspired the product. In preparing for the Newport Bermuda Race, a 655-mile competition across the Atlantic Ocean, Choy created and tested the Sea-Band on sailors.
Since 1984, Sea-Band has been owned by Nihan, who, along with the children of his three late original business partners, leads a team of 10 employees that work in England, where the product is manufactured and was first sold.
"I'd been writing about business and I always thought [Sea-Band] was something I'd like to get involved in. It was a product that was going against the grain. Acupressure back in the early 1990s … was very alien," said Nihan, who previously worked as a journalist.
The Sea-Band began selling in the United States in 1991, after the product was granted clinical approval to treat post-operative and chemotherapy nausea, and morning and motion sickness. Sea-Band is currently sold in more than 60 countries.
"When patients use Sea-Band, they feel as though they are in control of their condition more. It's safe and reusable," Nihan said.
Most recently, Sea-Band has spread into hospitals.
"We've shown how we can actually save hospitals money," Nihan said. "The willingness of patients to leave a hospital is greater, so hospital stays tend to be shortened. And patient maintenance and cost of drugs are less."
Furthermore, Sea-Band users have reported significant improvement in their symptoms.
"Airsickness made travel almost impossible for me. … I was on the point of giving up [before] a friend introduced me to Sea-Band," J. Lowe of Warwickshire, England, wrote in a testimonial on the company ­website.
Nihan and his team are currently focused on furthering Sea-Band's worldwide distribution by lowering prices, creating smaller packaging and entering local stores and travel centers.
"I get a thrill out of seeing [the company's growth]," Nihan said. "Having so many people interested and involved in the process is satisfying, to say the least. It's vindicating. Looking back, I never thought it would come to this."
OWNER: Leonard Nihan
TYPE OF BUSINESS: Wristbands that treat nausea and dizziness
LOCATION: 205 Spring St. #1, Newport
EMPLOYEES: 10
YEAR ESTABLISHED: 1984 (Europe); 1991 (United States)
ANNUAL SALES: $16 million