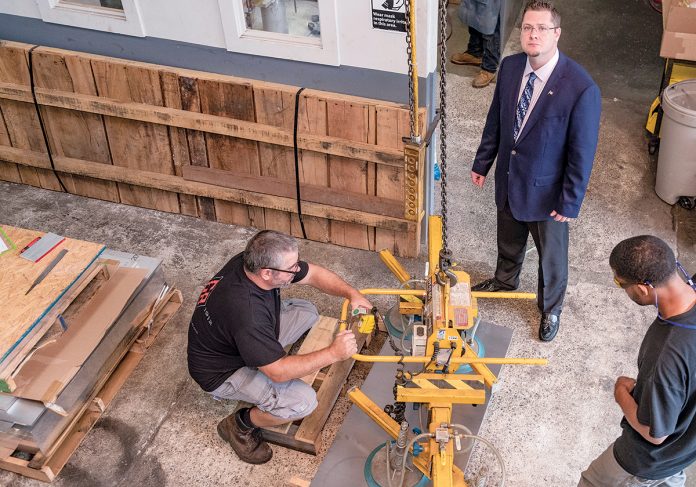 Thirty-six-year-old Christopher R. Goodwin, fourth-generation owner of 106-year-old Goodwin-Bradley Pattern Co. in Providence, knew from a very young age he wanted to lead the company.
After inheriting the business from his father, Goodwin, who started working there part time at 16 and full time at 20, says a trend in promoting younger professionals to top-level positions and the C-suite at local manufacturing companies is washing over Rhode Island.
Especially in an industry scrambling to match aging workers with the next generation, Goodwin is motivated about the sector's future when younger professionals "in their 30s and 40s" move up the ladder.
"Those white-haired individuals are still around," said Goodwin of executives leading the sector, "but I see a significant change in the [age of people holding] leadership roles."
Yet recently, one local company saw the opposite occur.
Taco Inc. owner and Chairman John Hazen White Jr. reassumed the position of CEO in his family's company in late August.
White, who started at Taco in high school, continuously served as president since 1992 and was CEO from 2001 to 2014. He stepped down, he explained, to allow for leadership with more acquisition experience, which led to Taco acquiring two European companies.
White, 60, said much of his leadership team are also baby boomers but views injecting his C-suite with younger professionals as an "ongoing education process."
He said much of the millennial generation's professional experience is based on how they were raised – with "the expectation of [receiving] information quickly."
In the work world, he added, "Nothing comes quickly … you can't come out of college and be a CEO."
Christian Cowan, center director for Polaris MEP, said leadership teams of many companies with which he and his team consult have been in place for "decades."
One reason for the long tenure, he said, is the local manufacturing sector is colored with multiple family-owned businesses that pass down the top-level positions from generation to generation.
However, the turnover of executive and C-suite level positions, he added, is not common. The state's industry is, on the whole, "a consistent, established leadership base," said Cowan, "it's not cyclical."
Cowan applauded White's decision to return at a time when the industry is experiencing "an increase in volume and business." He feels White's experience, which has seen the company through previous bullish periods, is a positive.
"The fact they can bring his leadership and historic knowledge base [to bear] is great for Taco and its employees," he said.
Rhode Island Manufacturing Association Executive Director David M. Chenevert goes further, saying White's return is good for both Taco and the industry. However, he feels the time is right for a surge of younger leadership led by executives.
Chenevert feels the longtime call for new blood to reinvigorate the industry "includes the whole spectrum of workers" – from shop floor hourly hands to the C-suite. In fact, when he left the top position at Swissline Precision Manufacturing Inc., the company he owns in Cumberland, to head RIMA, Chenevert handed the reins to his 36-year-old son.
Industrywide, he feels there are a "lot" of younger people accessing leadership positions, especially in smaller companies, but the trend has gone mostly unnoticed.
"It's not something small and privately held companies are talking about. [But] if you want to succeed, you need to bring in younger guys and start grooming them," added Chenevert, suggesting leadership training courses from Toray Plastics (America) Inc. and the Community College of Rhode Island.
Cowan, conversely, feels those leaders who have "managed through the harder times" are best fit to lead through the "growth times."
He knows the current industry leadership has not "avoided the aging-out problem" but said the priority is not simply "getting younger blood into the C-suite," but rather the "right talent set" to lead the industry forward.
Asked if younger workers do not have the skills sought by the current generation of leaders, Cowan said "experience [is] needed to execute operations properly" and it's the current C-suite who has that knowledge.
As technology changes, Cowan believes, younger professionals have a "great opportunity" to climb the ladder as they embrace improvements.
"It takes an open, innovative and flexible corporate structure to bring those technologies into your company," he said.
For now, Goodwin knows a future in which younger professionals breach the C-suite possibly decades prior to reaching retirement age is likely and will be paired with a departure from the ways of older generations.
Over the past five years, Goodwin recounted, he's led the company in an effort to collaborate with local shops. In his father's time, he said, collaboration was thought of as a waste of time.
"Everyone was worried about losing customers, their competitive edge," he said.
Teaming up with industry experts of similar age, Goodwin said, "What I found was exactly the opposite."
Emily Gowdey-Backus is a PBN staff writer. Email her at Gowdey-Backus@PBN.com.