The Giving Guide connects top level business executives and their employees to the region's nonprofit offerings.
Profiles of nonprofit organizations highlight their mission and position them as worthy of support by community leaders who can devote their time, talent and treasure.
In addition to the lasting value of the printed guide, additional distribution includes a digital edition on PBN.com for the year, and distribution of 500 copies to all attendees of the AFP-RI National Philanthropy Day Breakfast & Awards Ceremony in November.
Distribution: 7500+ print and year-long digital exposure.
---
Of the readers:
• 54% are CEO/President/Partner/Owner of their company
• 93% influence decisions at their companies
• 88% read PBN every week
• $355,650 average household income
• $668,773 average value of primary residence
• $855,102 average investment portfolio value
---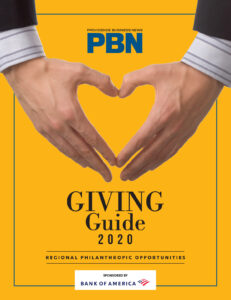 Click here to view the 2020 Giving Guide Special Section
Click here to view the 2019 Giving Guide Special Section
Click here to view the 2018 Giving Guide Special Section
Click here to view the 2017 Giving Guide Special Section
Materials Due: October 1, 2021
Publish Date: October 29, 2021
Reserve your space today.
Contact your PBN Account Manager:
Advertising@PBN.com   |  401•680•4800