Profiles of Success 2020
Would you like to share your company's story?
Plan now to participate in the 2020 edition of PBN's Profiles of Success. This annual publication offers a unique opportunity to showcase your business to over 25,000 readers of PBN – the decision makers in our region.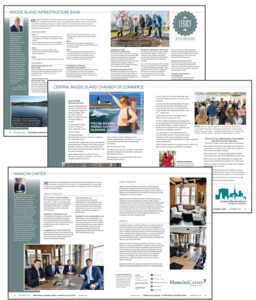 Profiles of Success is designed to help you promote:
• An anniversary, accomplishment or milestone event (Legacy)
• A new product line or service
• Uniqueness and competitive edge
• Brand and image in the community
• Your team of professionals
Click here to view the 2019 Profiles of Success.
Click here to view the 2018 Profiles of Success.
Click here for more details about advertising and sponsorship opportunities.
Reserve your space now!
Contact your PBN Account Manager:
Advertising@PBN.com    |    401•680•4800