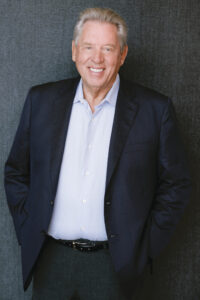 Providence Business News will host the 21st Century Business Forum, a free monthly webcast featuring executives, entrepreneurs, thought leaders and business experts from around the world.
Each conversation will be hosted by Jon Gordon, best-selling author of "The Energy Bus," "The Carpenter," "Training Camp," and other business titles. Guests will share their insights, ideas and experiences of success, as well as other lessons learned in their career.
The first webcast, hosted on Jan. 13, featured Steve Forbes, editor-in-chief of Forbes Media and former presidential candidate.
The next speaker in the series will be New York Times bestselling author John C. Maxwell.
Other speakers that will be featured in the series include Renee Mauborgne, co-author of Blue Ocean Strategy and Blue Ocean Shift, and Nick Saban, head coach of the Alabama Crimson Tide football program. The series will continue on the second Wednesday of each month. Registration for the event is free. Click here to register for the Feb. 10 forum.
Each webcast will be held on the second Wednesday of the month.
The series' first seven speakers include:
Steve Forbes – January 13 (Read PBN's recap here)
· Chairman and Editor-In-Chief at Forbes Media
· Podcast called "What's Ahead," where he engages top newsmakers, politicians and pioneers in business and economics
· Steve writes editorials for each issue of Forbes under the heading of "Fact and Comment." A widely respected economic prognosticator, he is the only writer to have won the highly prestigious Crystal Owl Award four times. The prize was formerly given by U.S. Steel Corporation to the financial journalist whose economic forecasts for the coming year proved most accurate.
John C. Maxwell – February 10
· #1 New York Times bestselling author, speaker, coach, and leader who has sold more than 33 million books in fifty languages. He has been called the #1 leader in business and the most influential leadership expert in the world.
· A recipient of the Horatio Alger Award and the Mother Teresa Prize for Global Peace and Leadership from the Luminary Leadership Network, Dr. Maxwell influences Fortune 500 CEOs, the presidents of nations, and entrepreneurs worldwide.
Renée Mauborgne – March 10
· #1 Management Thinker in the World by Thinkers50
· Co-author of global bestseller Blue Ocean Strategy and Blue Ocean Shift
· Blue Ocean Shift is New York Times and #1 Wall Street Journal bestseller. It is also an USA Today bestseller, Los Angeles Times bestseller, and an International bestseller.
· The Financial Times called Blue Ocean Strategy "one of the bestselling business books of the century"
Nick Saban – April 14
· Six-time National Coach of the Year
· Winner of six national titles
· Head football coach, Alabama Crimson Tide
Josh Linkner – May 12
· #1 Most Booked Innovation Keynote Speaker
· World-Renowned Innovation Expert
· Two-time New York Times Bestselling Author: Disciplined Dreaming: A Proven System to Drive Breakthrough Creativity and The Road to Reinvention: How to Drive Disruption and Accelerate Transformation
Steve Cannon – June 9
· Former President/CEO of Mercedes-Benz USA
· CEO of AMB Group, LLC: leads all business operations of the NFL's Atlanta Falcons; Atlanta United of Major League Soccer; Atlanta Falcons Stadium Company; PGA Tour Superstore; and the Mountain Sky Guest Ranch
Brian Solis – July 14
· Called "one of the greatest digital analysts of our time"
· Global Innovation Evangelist at Salesforce
· Award-winning author of eight bestselling books including, X: The Experience When Business Meets Design, What's the Future of Business and The End of Business As Usual